The city of New York is renowned for its glitz,  hotels, huge skyscrapers, Times Square, and pizza. This dynamic and lively city has lots to offer to everyone. You must have a plan in place to explore this city if you've been dazzled by its charm. But wait, does that plan involve a fine room for the night?
To make the best choice, you must thoroughly research all the best NYC hotels before making holiday plans and staying at the best NYC hotels.
If you desire glamour and attractiveness, then you must stay closer to the fashionable areas in the city.  Are you currently confused about where to stay? Are you looking for hotel recommendations?
If so, we have curated a list for you that will help you make a decision and won't leave you feeling confused. So, don't worry about your accommodations we've got you covered. The best hotels in New York City are listed in this article.
New York houses many hotels. The hospitality of hotels is well known. Many people travel to New York to cross items off their bucket lists, explore, and pick up local knowledge. The majority of travelers search for luxury accommodations with connected bathrooms, spas, and other amenities.
We will not provide you with the kind of information you can obtain online easily, based on extensive research this list has been carefully curated.
You may wonder how you can put your trust in us for this.  I advise you to wait and read about it before making any conclusion. So, let's move further!
Types of Hotels
People from different origins and tastes in hotels visit New York.  Everything in a foreign culture is an opportunity to learn more about oneself and their preferences. You experiment with different foods and discover that you enjoy them, making you ponder why you've never tried them before. Such is the same with hotels.
After reading the information below, you'll be able to identify your preferences and reside in one of the best NYC hotels.
Here are the types of hotels you can choose from:
1. Budget-friendly:
These are hotels that don't require you to shell out a lot of money, but still, provide all the essential amenities.
2. Luxury Hotels:
They are hotels that provide luxurious life. Customers who stay at a premium hotel can expect luxury. 4 or 5-star hotels are examples of premium lodging. They offer first-rate amenities and services, such as a spa, a pool, a gym, and numerous other facilities.
3. Near a Famous Landmark:
These hotels have landmark views, indicating that they are close to well-known landmarks like Times Square and Central Park. They offer prestige and comfort.
4. Vintage Furnishings:
Traveling back in time, even just through architecture and design, is one of life's most fascinating experiences. Hotels with vintage furnishings tell historical stories whilst providing modern amenities.
The exceptional artistry can be seen in Victorian furniture pieces, bold decorations, artifacts, and ambiance to name a few. The timeless allure of the vintage decor gives the individuality and charm of the room, which makes vintage hotels quite popular.
Best NYC Hotels
There are many best NYC hotels. However, in this list, we provide you with the most elegant yet comfortable accommodations to enhance your experience. Now starts the final and main journey of this article:
1. The Dominick NYC:
The Dominick Hotel in New York City's SOHO district is a stunning urban paradise that reflects strength and style. The hotel provides luxurious lodgings in its 46-story, 391-room skyscraper as the only five-star hotel in the area. It also includes incredible views of Manhattan and the Hudson River.
This place in New York City offers convenient access to popular tourist destinations and is close to York downtown. Experience a singular assortment of renowned art galleries in the Tribeca and West Village. Modernism and the city's glamorous past are combined to create the hotel's overall aesthetic.
You may shop from some of the best, most well-known brands located in and around this area.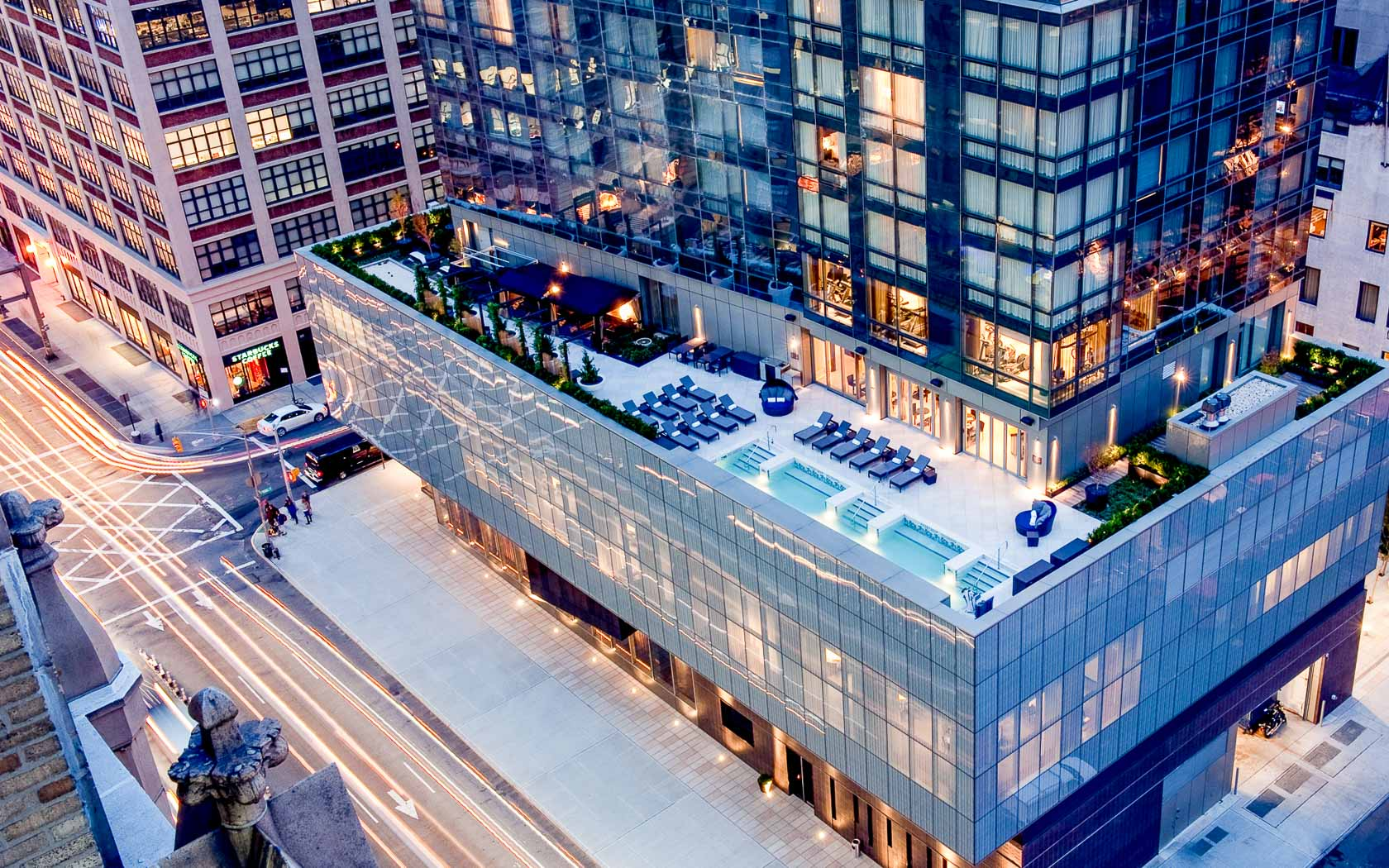 Location:
The Dominick Hotel
246 Spring Street
New York City, New York, 10013
Nearest Airport: LGA, JF
Amenities:
There are three spa suites accessible for guests, one of which is a private sauna and separate tub.
Two-bedroom flats, duplex penthouses, and book-filled drawing rooms add to the vacation atmosphere and give your family a comfortable place to stay.
Enjoying an outdoor pool is a thing of beauty and the lobby's art deco bar.
2. Baccarat Hotel:
The price range for this hotel in York place is Rs.40k to Rs.55k per room. It's a lavish place to live. Therefore, individuals seeking a comfortable, enjoyable journey can stay here. One of the world's most exquisite and wonderful producers of beautiful crystals is Baccarat.
The Baccarat hotel was first discovered in France some 250 years ago, and its first hotel was erected in New York City in 2015. The Baccarat Hotel New York is the name of this property. It is a lavish location with the use of 15,000 beautiful baccarat pieces.
Is it truly that good? Yes, it is a proud moment to live there, and visitors come to enjoy their vintage and regal experiences.
It is directly across the street from the Museum of Modern Art and is the ideal fusion of contemporary New York craftsmanship with classic Parisian design. A short walk from the hotel will take you to Times Square, Carnegie Hall, and Central Park, all of which are iconic locations.
You can also shop at the fancy fashion houses on Fifth Avenue. Their elaborate crystal work, which resembles a dazzling glass box, gives off an aura of grace and comfort that is immediately noticeable from the outside.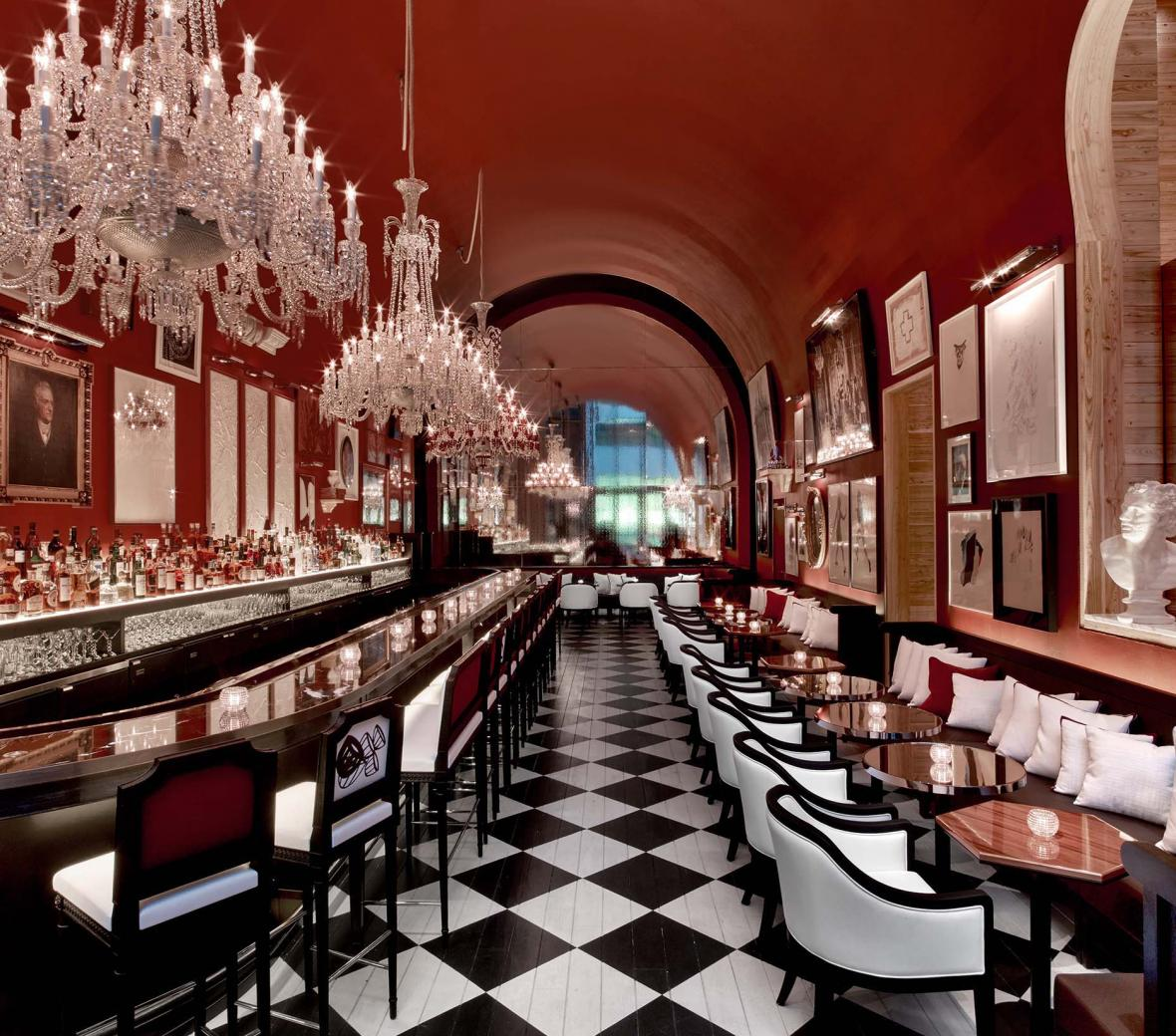 Location:
Baccarat hotel
28W 53rd St,
New York, NY10019, United States.
Amenities:
There is an exceptional property for hotel visitors with different forms of work that have been done to give the establishment a fresh design that makes it stand out from other hotels, making it an exceptional resort.
Large flat-screen TVs encased in smoked mirrors, soaking baths, rainfall showers, Baccarat tumblers, and comfortable robes all provide entertainment for hotel guests.
The minibars in red lacquer furniture are loaded with champagne and non-alcoholic drinks and a rooftop bar also.
The walls of the room are tastefully decorated rooms and have crystal sconces hanging from them.
People are so eager to find room service because it is one of the most important components for guest room lover that they will look for everywhere and this York palace is providing it for us. This Baccarat hotel costs between Rs.80k and Rs.90k. It offers us a luxurious lifestyle, the option to live close to well-known landmarks, and the possibility to create priceless memories. What are you waiting for? Reserve this hotel and have a great time!
3. Residence Inn New York, Manhattan/Central Park:
It is situated at the southwest corner of 54th Road and Street, located almost midway between Central Park to the north and Rockefeller Center to the south, this York palace offers one of the most convenient sites in Midtown manhattan.
The sleek, contemporary rooms have kitchenettes and views of central and midtown Manhattan, making it the tallest hotel in North America. There are numerous polished styles with sparkling glass exteriors here.
In York hotels, both the local atmosphere and the tourist attractions are particularly well-known. You won't have any trouble moving around to discover them because there are numerous restaurants close to the hotels.
This hotel offers the necessary standards while being reasonably priced. It offers a clean, contemporary view of the hotel so that guests may enjoy their time at the York Palace.
Location:
Residence Inn New York, Manhattan/ Central Park
1717 Broadway,
New York, NY 10019, USA
Amenities:
This hotel offers us the greatest location that meets our hotel demands. If you're interested in learning more about the features and amenities that this hotel offers, read on.
In guest rooms Free Wi-Fi, pod docks, a flat-screen TV, and a park view are all provided there at a hotel rate; no further fees are required.
Additionally, there are complimentary breakfast options and grocery delivery.
Business travelers can save time by using the meeting room like just another office and laundry facilities are also provided.
A unique feature of the hotel is the ground floor bar, which is teeming with places to eat, drink, and have sightseeing opportunities. In comparison to other New York hotels, you can enjoy this property for only Rs.19k to Rs.20k. Anyone can afford it, and you'll get a lot of opportunities for that sum of money. So you can enjoy yourselves there.
4. Lowell Hotel:
It is an antique structure that was built in 1927. Madison Avenue is 150 feet away from the property. This York Palace structure has a 17-story building. The Lowell hotel is 550 feet from Fifth Avenue and 1050 feet from Central Park, allowing for easy access to both of their views.
It underwent renovation and reopened to the public in 2017. So this hotel offers greater services and amenities. It has been recognized as New York City's top hotel.
The hotel has elegant amenities and lovely accommodations. They provide penthouses in addition to its 74 rooms. According to our research, out of a total of 100 customers, 75% are frequent visitors who always find a good reason to remain at this hotel.
The Metropolitan Museum of Art is about 20 minutes from the hotel.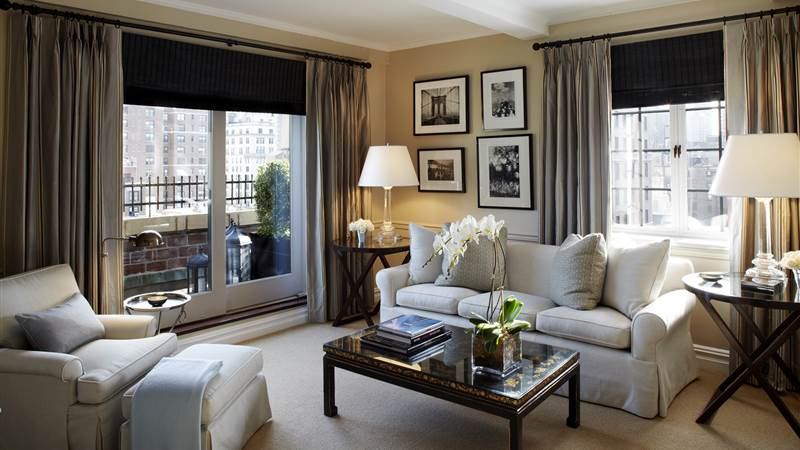 Location:
The Lowell hotel
28 E 63rd st,
New York, NY 10065, USA
Amenities:
They feature an on-site restaurant that is easy to access and may satisfy their needs even when they are not staying at the hotel.
They provide a large number of hotel rooms to accommodate single travelers, couples, and families.
Facilities include a lobby bar and a Clubhouse. Whereas the lobby bar is accessible to both guests and the general public, the Clubhouse is just for guest members.
The zoo and pond are close by, so visitors may readily evaluate these amenities as well. The cost of the guest rooms varies widely. The lowest price of a room starts at 70k and rises with the number of amenities included, depending on the quality of the room you choose. So visit this location and indulge in the lavish hotel lifestyle.
5. Thompson Central Park Hotel:
The Thompson Hotel is a four-star establishment close to Madison Square Park. It was founded in 2002 and has since spread to several locations. The location is ideal for tourists visiting lower Manhattan. It is a structure with 42 stories.
Grand Central Terminal is three blocks distant from this hotel. Among the other two Thompson properties, it is the third one. The hotel is located at 56th Street and 6th Avenue.
After joining Hyatt in 2019, The Parker New York underwent renovations and will shortly reopen as The Thompson Central Park New York.
Location:
Thompson Central park hotel
119 W 56th St,
New York, NY 10019, USA
Amenities:
A modern cocktail bar, fitness center, rooftop pool, fitness center, basketball court, and steam room are available as amenities.
Private minibars, living rooms, stylish reclaimed wood furniture, and views of Central Park are all included.
Burger Joint, which was recognized as the second-best hotel restaurant, is well-known for its hamburgers.
There are also a barbershop, a salon, and a ballroom for events.
The room costs between Rs.40k and Rs.50k approx. What are you looking for? It appears to be expensive, but not for the New York region, and offers a ton of amenities. The perfect hotel rooms here are ready for you.
6. The Pierre, a Taj Hotel:
Can we possibly discuss the top hotels in New York City without mentioning Pierre, a Taj hotel? The Indian in us is very thrilled to recommend this exquisite hotel for you to spend your vacation at.
It belongs to the Taj Hotels Resorts and Palaces, an umbrella organization of exclusive hotels and resorts worldwide. New York City's Fifth Avenue is home to the iconic Pierre.
The Pierre provides visitors with aristocratic luxury treatment and is a prominent feature of the New York City skyline because of its copper-sloped roofing. The hotel is close to premium commercial establishments where you can have the leisure to spend your dollars in some of the top brand stores.
It is ideally situated near the well-known and historic Central Park, where you can go to take a whiff of relaxing breath in the beautifully enchanting nature after spending a dazzling time at the Pierre. You can take a walk back in time here, where the city's golden era lingers in every corner of the hotel.
Location :
The Pierre a Taj Hotel
2 East 61st Street at 5th Avenue,
NY 10065,
New York City
Amenities:
Perrine, The hotel's restaurant, serves seasonally-inspired modern American cuisine and circadian specials that are modeled around Pierre's famous dishes.
Every Thursday to Saturday, live jazz is performed in the hotel's Two E bar and lounge during the daylight hours.
Exceptionally trained elevator attendants, a Les Clefs d'Or valet team, and professional housekeepers all contribute to the high level of service at this Midtown/Upper East Side location.
There are numerous kid-friendly facilities available, including special meals, shows and films, toys, and special museum permits that can be booked.
Pierre's rooms are furnished with only the finest and most pleasant comforts, and the rates reflect this. The costs range from 50k to 1L. You receive the highest quality of service in each room, and the charges are summed up appropriately.
7. Greenwich Hotel:
The hotel is in a stunning location In the Tribeca district of New York City. For those looking for a discrete luxury stay in this hip area, this hotel is the ideal retreat. Robert De Niro and his business partners Richard Born and Ira Drukier designed and built this hotel.
The hotel provides cozy areas with a variety of facilities to let visitors feel welcome and comfortable. Only guests are permitted in the public spaces, including the picturesque Courtyard and Drawing Room.
However, since they highly value guests' privacy, photography is not permitted. As a result, visitors can stay in these public areas till late without worrying about being seen. It has its own restaurant and spa in addition to a subterranean pool and exercise facility.
Location:
The Greenwich Hotel
377 Greenwich Street
New York, NY 10013
Amenities:
Every room in the New York hotel has a distinctive design that sets it apart from the rest. The architecture combines Tibetan, Moroccan, and European design features.
Bricks are exclusively imported from Pennsylvania and are fashioned by hand. Oak flooring, floor-to-ceiling windows, and wooden beams are also made from repurposed wood. All of the aesthetic components work together to create a welcoming Tribeca sanctuary where visitors may relax and feel at home.
This upscale hotel has 88 suites and guest rooms the 325 square foot Courtyard Rooms are decorated in traditional European fashion. The spaces are warm and welcoming. Their French window frames overlook the courtyard.
Wine and supper are available in both the indoor Courtyard, rooftop bar, and drawing room. Each is only reserved for visitors. A large fireplace in the drawing room serves to keep the space cozy.
The prices reflect the fact that the guest rooms at this hotel are outfitted with only the best amenities. Costs vary from 70k to more than 1L The services are of the finest caliber which is reflected once you experience them.
Conclusion
You have to be in a frenzy of delight to wander the city's streets, visit the iconic Empire State Building or view the Manhattan skyline, and finish the day with a traditional New York pizza.
And when you're exhausted from all the shenanigans and want to return to a comfortable setting, you can pick one from our list to up the level of comfort during your stay.
Better hurry up and book your stay at the Best NYC Hotels!
Read more from us: Best Aquarium in New York – 8 Places You Must Visit