Food
A Guide to 29 Best Toronto Cafes
There is a tonne of cafés in Toronto, and each one has a distinctive menu and interior appeal.
Everyone can enjoy a warm cup of coffee & baked pastries, whether they like modern or fashionable cafes or more traditional ones.
We selected the Toronto best cafes based on their popularity as well as the crucial factors to take into account to demonstrate what makes a café successful.
Toronto Best Cafes
Here is our list of Toronto's Best Cafes and the best Toronto coffee shops that provide good quality coffee. Remember to post a comment and let us know what you think!
The furnishings and accents are quite organic, exuding a serene zen vibe. You will feel at home in a contemporary setting due to the interior design choices and great little spots, which are both cozy and fashionable.
There are simple wooden tables and chairs outside where you may sit & enjoy the drinks.
The wonderful coconut coffee is the most sought-after. With the addition of coconut flakes, it is comparable to a latte. Additionally, they reheat their delectable almond croissant to make it even more delightful to eat.
Because of the pig floss, custard, and cheese on top, this dish is a soft, fluffy cake that is both sweet & savoury.
The Iced Bac Xie, a strong, sweet, and aromatic white coffee, is a favourite here. Typically, condensed milk is added to these liquids to give them a rich and creamy flavour.
2. Rabbit Caffe
One of Toronto's best cafes, there are many different meal and beverage options available at White Rabbit Cafe.
This cafe is dedicated to zero waste. Thus they utilize as many biodegradable materials as they can while avoiding the usage of plastic in their packaging.
This establishment's interior has lovely wooden furnishings and a naturalistic feel, thanks to the potted plants here on wooden shelves.
There are around 7 tables and 11–12 seats in this location. Despite being small, the room is warm and inviting.
The pistachio coffee served here is a customer favourite. Every sip of this silky coffee carries a little pistachio flavour.
They feature a variety of vegan options, and the menu is seasonal. Additionally, the vegan, dairy-free rosewater cupcake ($5.00) is well-regarded here!
Milky's offers baked goodies and seasonal specialty drinks. With its wood panelling layout, this location has a distinctive look.
Additionally, the shop is decorated with Japanese figurines, mugs, and bowls, which enhances the beautiful and welcoming ambiance.
The Fired Apple Cider is a customer favourite here. It has torched meringue, apples, & cinnamon on top and tastes like such a liquid apple pie.
A specialty coffee store called Sorry Coffee offers some potent beverages. This cafe's building is extremely well-designed, giving it a tidy, opulent, and contemporary appearance.
The provided hot chocolate is highly recommended. Because of its subdued sweetness, dark chocolate aficionados prefer it. Milky's comes under Toronto's best cafes.
Additionally, the raspberry almond croissant is a fantastic match for this beverage. The pastry has a delicious raspberry filling and is buttery and flaky.
This store's price points range from $3 to $6. Sugar Coffee is a cashless establishment!
Small and efficient, Strange Love offers tasty baked goods, specialty beverages, tea, and coffee with additional boosters.
Given that the interior of this space is made of modern wood, it is the ideal spot to work or read a book. Strange love is among Toronto's Best Cafes.
The Iced Lover's Latte is a great choice, Tonka bean syrup & coffee make the ideal match in this chilly beverage.
The bagel has a toasted outside and a fluffy interior. The real treat is infused with warm honey butter. This store's price ranges from $3 to $8.
An independent coffee chain called Fahrenheit Coffee debuted in 2012 and is renowned for its excellent coffee and cozy cafe. Fahrenheit Coffee
When you enter this cafe, you'll be welcomed with a wooden interior with a welcoming atmosphere. This store provides three seasonal espresso origins, tea, lattes, iced drinks, and other beverages.
Because of the rich expresso flavour that comes through, customers love the latte. It works nicely to balance out the milk's richness. The delicious snacks that were on offer were also a popular match with this.
Depending on how many you want, the costs range from $2 to $6. To find out why this shop is so lauded, try some of their world-famous coffee on the move.
It comes under the list of Toronto's Best Cafes. This store provides three seasonal espresso origins, tea, lattes, iced drinks, and other beverages.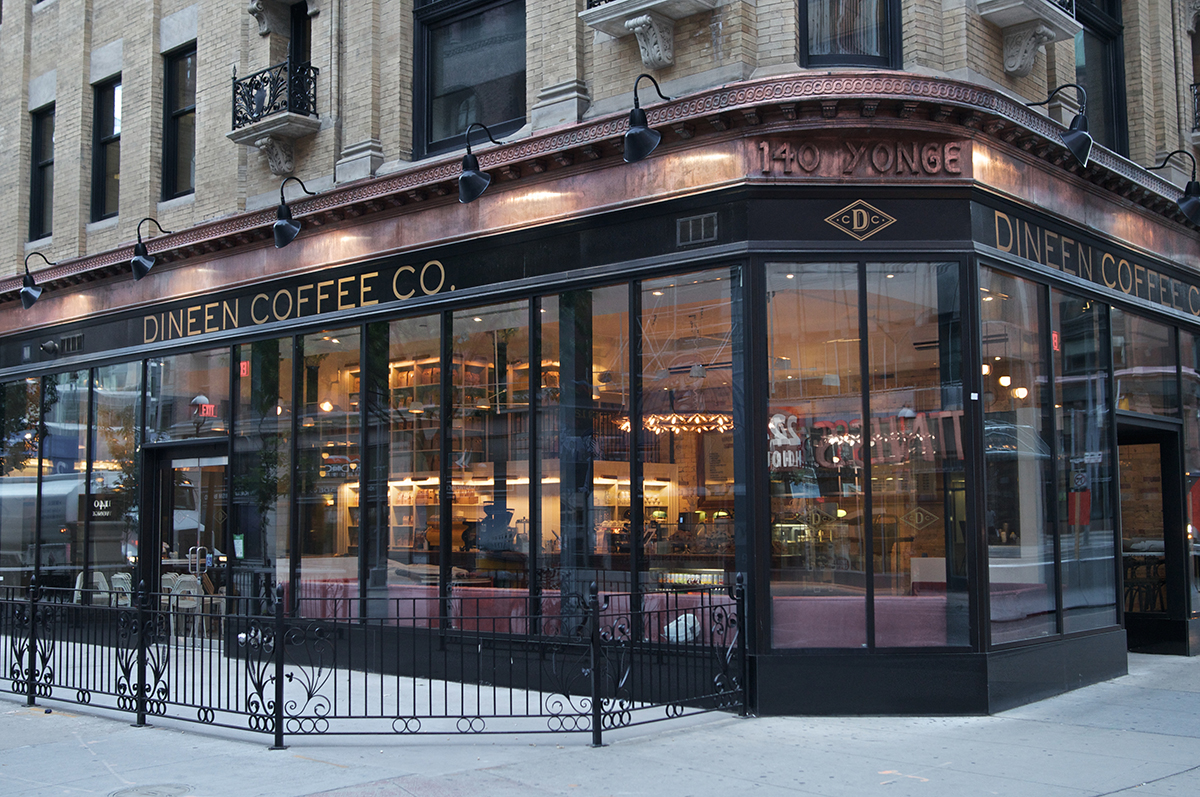 The first café was founded in the historic Dineen Building, one of Toronto's oldest buildings and a Toronto Heritage Property, when The Dineen Coffee Co.
This historical location, which formerly served as the headquarters of the hat & fur retailer W. & F. Dineen Co., is in the heart of the Financial District and is now regarded as one of the greatest coffee shops in the area.
The Dineen Coffee Co. offers great, high-quality coffees, snacks, and sandwiches while it is bustling with tourists & residents on their morning commutes.
The best thing is that Dineen Coffee can offer you a large selection of delectable items, including pastries, breakfast items, sandwiches, parfaits, premium coffees, teas, and iced beverages.
The incredibly creamy vanilla latte, as well as pistachio loaf & cranberry lemon scones, are the main favourites, this cafe is one of Toronto's Best Cafes.
The price of the meals and drinks might be anything from $2 to $10. Make sure to check out this antique cafe; you must see the interior design!
It is streamlined, modern, and monochromatic-cool.
Rich and tasty brews are served in this 420-friendly coffee establishment in a setting that mixes a fine coffee experience with accessories for affluent smokers, it comes under the Toronto Best Cafes.
In the heart of Kensington Market, Fika, a bright, airy, and welcoming establishment that serves meals, cakes, and, of course, coffee, takes inspiration from Sweden's coffee culture.
This laid-back, Scandinavian-inspired location promotes taking it easy and a midday vacation from the continuously busy streets.
It comes under the best cafes in Toronto, and the backyard patio & garden, which includes a hammock, is the ideal secret location to get away from the bustle of the city.
The culture of specialty coffee is at its best with Pilot Coffee.
While outlets spread around the city help keep the general populace caffeinated, the East-end headquarters integrate a roastery with a lab, tasting bar, and the hub of the distribution center.
Customers are welcome to visit Pilot's headquarters to observe the entire production process and learn more about the art of coffee.
After launching its first site on Harbord about ten years ago, this trendy coffee shop has grown into a family with multiple outlets all around the city.
Each location offers excellent coffee and a welcoming, community-driven atmosphere.
Sam James Coffee Bar is a great choice if you're seeking a quick, fast cup of the good stuff. No matter what neighbourhood you're in, Toronto, you can get your SJCB dose at one of the five separate locations.
12. Bloomer's Coffee Break
In this Bloor & Ossington café, vegan sweets and meals are served alongside excellent coffee and loose-leaf tea.
Here, vegetarians and vegans congregate over hearty bowls and tofu club sandwiches.
The donuts here are unmatched, featuring an incredibly delicate texture and unique flavours like rose pistachio.
While placing your order for your main course, request that servers reserve your chosen type of dessert because the doughnut case can quickly run out, given the walk-in demand.
Vietnamese business owners serve fresh banh mi sandwiches with Vietnamese coffee and tea lattes flavoured with pandan, or purple sweet potato, an odd but amazing mix.
Weekends without Wi-Fi serve as a reminder to disconnect and mingle.
You may enjoy your fancy cappuccino & catch up on emails while surrounded by a jungle-like collection of potted plants and luscious greens at Rustle & Still Café because their plant selection is top-notch.
Even only to take in this magnificently restored heritage building's flawless design is worth the trip.
At Boxcar Social, sommelier baristas offer flights of coffee that highlight regional subtleties, something akin to experiencing the terroir of wine. This brings together wine aficionados and coffee nerds.
Every cup of coffee is made at the ideal temperature and length of time to bring out the nuances of each bean. Because wine, drinks, and charcuterie boards follow coffee hour.
The expansive Harbourfront site offers stunning views of Lake Ontario.
Jacked Up coffee, which originally operated as a mobile coffee truck, now offers freshly brewed coffee from two carefully preserved vintage Citroens.
For a more dependable coffee fix, the trucks are now permanently situated in Yorkville, on the first floor of 225 King St.
Is there a cuter way to start the day than by purchasing your coffee from a bright blue truck? No, we believe.
Jimmy's coffee, another one of Toronto's small-scale coffee shops, knows how to make a killer espresso or Americano.
The Kensington Market location features a wonderful back patio, helpful personnel, and courteous service.
When you're in Toronto's East End, Odin is an amazing cafe to have brewed beer. It is sleek, sophisticated, and dripping with Scandinavian flair.
This area is inviting and a wonderful addition to the Corktown coffee scene, accented with white wood and amazing geometric features.
For delectable coffee from neighbourhood East Side roaster Pilot Coffee, warm service, and a look that looks like it belongs in a Design Milk story.
This coffee business, named after the original coffee explorer Francisco De Mello Palheta, combines a micro-roastery with a specialty store for caffeine addicts.
The staff at De Mello Palheta serves the greatest product possible by sourcing only the best green beans & roasting them on-site.
De Mello Palheta is a must-visit for any coffee enthusiast, from the colourful, graffiti-covered facade to the rustic yet industrial dining area & roastery in the back.
The holistic nutritionist-founded Nutbar is a place where health-obsessed people may satisfy their appetites for sweet treats and coffee. It is a happy place for superfood-filled meals because it is free of white sugar & white flour.
With ingredients like turmeric, Chaga, and spirulina, Nutbar's smoothies and super drinks will give you energy even if you're trying to cut back on coffee.
Ezra's Pound is a quaint café with wonderful coffee and a range of homemade grab-and-go food options located just a few steps from the city's renowned Casa Loma.
Freshly baked products, robust, environmentally friendly coffee, and efficient, friendly service? Why not adore it? Take the stairs to Casa Loma's gardens for an afternoon snack after grabbing coffee & a sandwich (and perhaps a sweet treat for later.
20. Te Aro Lovely Coffee Shop
Te Aro is a quaint yet industrial coffee shop with New Zealand influences in Leslieville that pulls espressos from locally roasted Pilot Coffee beans.
Although it's difficult to make a mistake when nearly every roast is good, friendly baristas are eager to enlighten and educate customers on the diversity of roasts available.
Experience the unique flavour of hand-roasted, small-batch coffee and relax in Te Aro's cozy, friendly environment. This is the perfect place to work while enjoying a cup of coffee or reading on a rainy day.
21. Francisco De Mello Palheta
After the original, this midtown Toronto coffee store is a hybrid of a specialty shop for caffeine lovers and a micro-roaster, founded by coffee adventurer Francisco De Mello Palheta.
The staff at De Mello Palheta serves the greatest product possible by sourcing only the best green beans & roasting them on-site.
De Mello Palheta is an important trip for any coffee fan, from the entertaining, graffiti-covered facade to the rustic yet industrial dining area and roastery in the back.
It is streamlined, modern, and monochromatic-cool. This 420-friendly coffee shop serves up flavorful, rich brews in a setting that mixes a fine coffee experience with high-end smoking accessories.
Tokyo Smoke, one of Canada's top lifestyle companies, is unquestionably worth looking into if you need a caffeine fix in Toronto.
Learn about the best cannabis practices while sipping coffee in this chic yet welcoming setting on hip Queen West.
Tucana coffee is a beautiful café, the coffee is excellent, and it is also bright and floral. Tucana focuses on promoting & supporting local art, community, and inclusivity and has works by local artists on display at the store.
Even though this coffee shop is small, it has a tremendous heart. When you're out and about on Dundas West, Tucana is a great place to get coffee.
They serve great beans from Toronto roasters, including Cut Coffee and Pilot.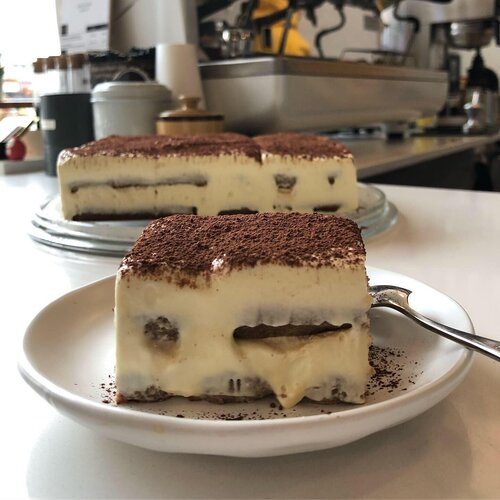 This also comes under the Toronto Best Cafes. A warm and peaceful cafe selling a range of espresso drinks & macarons is called Cocoon Coffee, and it is situated in North York.
The fusion of cozy and industrial design elements produces a distinctive ambiance.
AM Coffee combines a coffee shop with a wellness studio. You'll be able to leave with some inspirational encouragement, and if you feel up to it, you can even enroll in a course.
This coffee shop deserves a spot under the Toronto Best Cafes.
The mythical fox spirit from East Asian tradition is the inspiration for the name of Ninetails Coffee Bar. The interior design also draws on East Asian aesthetics, creating a calm and quiet cafe.
Final Note
The best coffee is always available in Toronto's best cafes. These places will work whether you're rolling alone for a simple cup of coffee or rolling over to chill out with friends.
You can enjoy delicious coffee, delicious food, tasty coffee, baked treats, amazing coffee, and avocado toast in Toronto's best cafes.
Due to the diverse population, there is a worldwide perspective on caffeine consumption here, with stores offering blends from all over the world.
They have the Toronto best cafes for you, whether you're searching for a quaint, locals-only hangout, a busy tourist destination in its own right, or a café.