Las Vegas Strip is one of the most famous spots for bachelorettes, and if you are planning for a gala bachelorette party in Las Vegas, FeverUp is offering tickets for Bachelorette Party Club Crawl starting from May 5th, 2023, from 8.30 pm, every Friday and Saturdays. You can chill there with your squad for long 5 hours. One thing you must consider is you all must be above 21 years old.
It's no secret that Las Vegas, which is regarded as the global centre of entertainment, is a preferred location for bachelorette parties. Las Vegas offers whatever you need to enjoy your pre-wedding celebration, whether you want to dance all night or just relax by a pool in the sweltering desert sun.
Because of the city's limitless entertainment options, reasonably priced luxury, ideal climate, and amazing experiences and parties, travelling in Las Vegas is the correct choice, and the bride might be sent out in elegance.
1. A Highly Recommended Club Crawl Guide for a Bachelorette Party to Get the Night Started Without a Hitch!
1.1. A Knowledgeable Bachelorette Party Club Crawl Guide
Want your final meeting before the ring to be unforgettable? Then, have the final night in Las Vegas participating in this VIP Club Crawl.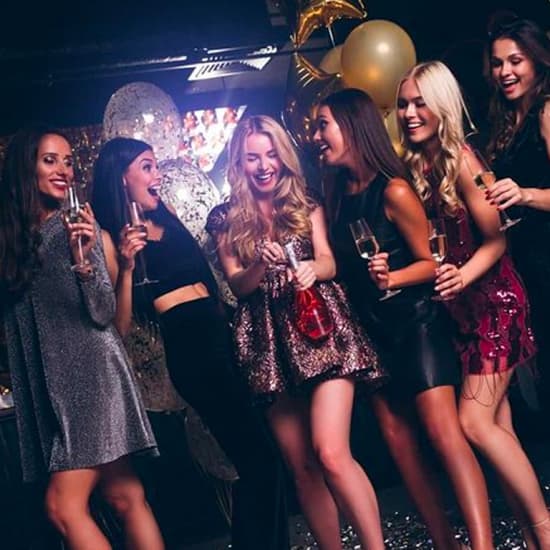 You and your girlfriends will turn the town red while having a good time at four of the top late-night nightclubs in the "Sin City".
The place is deserving of your last hurrah as a single lady. Your entire group will be able to skip the long lineups and get through the security checks at each location.
1.2. Quick VIP Entry
 There are no lineups and no cover fees. Customized check-in timings, a drink menu you may design, and the locations you wish to visit are all accessible! Ideal for milestone, bachelor, or bachelorette parties, birthday parties, divorce parties, etc. Choose any party that you desire.
1.3. Luxury Transportation: Two off-the-Hook Rides on their Open-Bar Party Bus
Were the upscale means of transportation mentioned? On a fancy open-bar party bus, your bachelorette party group will tour the Las Vegas Strip!
The open bar serves free beverages, and there are luxurious chairs, LED lighting, stripper poles, a great music system, and more.
1.4. Rock Bottom Fee
If you are looking for a big bash bachelorette party at a reasonable price, then Bachelorette Part Crawl Club is just your correct spot. Plan your party with your squad and make your evening memorable. Crawl Club offers one of the hottest, most amazing, and most exciting bus tour parties in Las Vegas.
Although Las Vegas is a wonderful location to celebrate your forthcoming wedding, spending too much money at the most well-known nightclubs may be very costly. This place won't be too costly.
A huge lifestyle doesn't always entail huge expenditures. For a rock-bottom fee, they can provide the ultimate VIP party for your bachelor group.
1.5. Get Tickets Now
FeverUp offers tickets at a very reasonable price which is $30.50 per person. Reserve your VIP Club crawl tickets for Las Vegas right away at FeverUp and get set for an unforgettable bachelorette party in a luxurious party bus!
What: Bachelorette Party Club Crawl.
When: 5 May 2023 (every Friday & Saturday).
Where: Las Vegas Strip, NV.
Time: 8:30 PM.
Tickets: You can purchase them here.
Read more from us here.