A weekend spent at the best spa in Ontario can be the ideal retreat if you're seeking a peaceful getaway to unwind and revitalize yourself.
In Ontario, there are several resort options, each with its amenities, services, and treatments.
There are the best spa in Ontario & inns for every kind of retreat, from all-inclusive hotels on heritage estates to spas with Scandinavian design influences.
Best Spa in Ontario: 11 Amazing Options
We've picked up the best spa in Ontario, which contain indoor and outdoor pools, whether you're searching for a rejuvenating girls' weekend away or a romantic couples' getaway.
The necessity of taking time out from the bustle to focus on our health & well-being was never more crucial because life in Ontario appears to be a never-ending cycle of stress & strain.
Fortunately, Ontario is home to several truly magical spas and health centers that specialize in rejuvenating weary bodies and spirits.
These Ontario spa getaways are sure to please, whether you're seeking a romantic couples getaway near Ontario or to get away for a weekend of solitude and self-care with the eucalyptus steam room.
To assist you in organizing your upcoming health holiday, we've compiled a list of the best spa in Ontario.
Categorized as the best spa in Ontario, one of the numerous characteristics that make the Scandinave Spa, Ontario, one of the most well-known spas in the province is its thermal waters.
This serene retreat is on 25 acres of unspoiled forest just outside Collingwood and offers stunning views of the Niagara escarpment, one of Ontario's UNESCO World Biosphere Reserves.
Visitors can enjoy the therapeutic benefits of forest bathing in the spring and summer or embark on one of the numerous hiking or cycling trails that provide breathtaking vistas of southern Georgian Bay.
The location is converted into one of the favourite places in Ontario to view the fall colours throughout the months of the year when the gorgeous foliage blooms.
If you want to spice up your relaxation journey with a little adrenaline, Ontario's downhill ski slopes, like Blue Mountain Resort, are pretty close.
A scandinave spa is a place you won't want to miss, whether you're searching for some treatment or a digital detox encircled by serene nature.
Ste. Anne's Spa, as the best spa in Ontario in Grafton, serves as a getaway for both the mind and soul as it is for the body, and few spas in Ontario have contributed more to raising the level of health & wellness in the province.
The picturesque settings and fairytale-like structures may seem to be plucked straight out of a storybook, but the catered facilities and individualized programs are administered by some of the best therapists in the province and are outfitted with contemporary comforts.
On the road to becoming the best spa in Ontario, the focus of this resort is leisure, despite the opulent and upmarket surroundings that may appear pompous.
Put yours on and take a plunge in one of their heated, four-season therapeutic and meditation pools, or relax in their lavender steam room to reenergize from the inside out.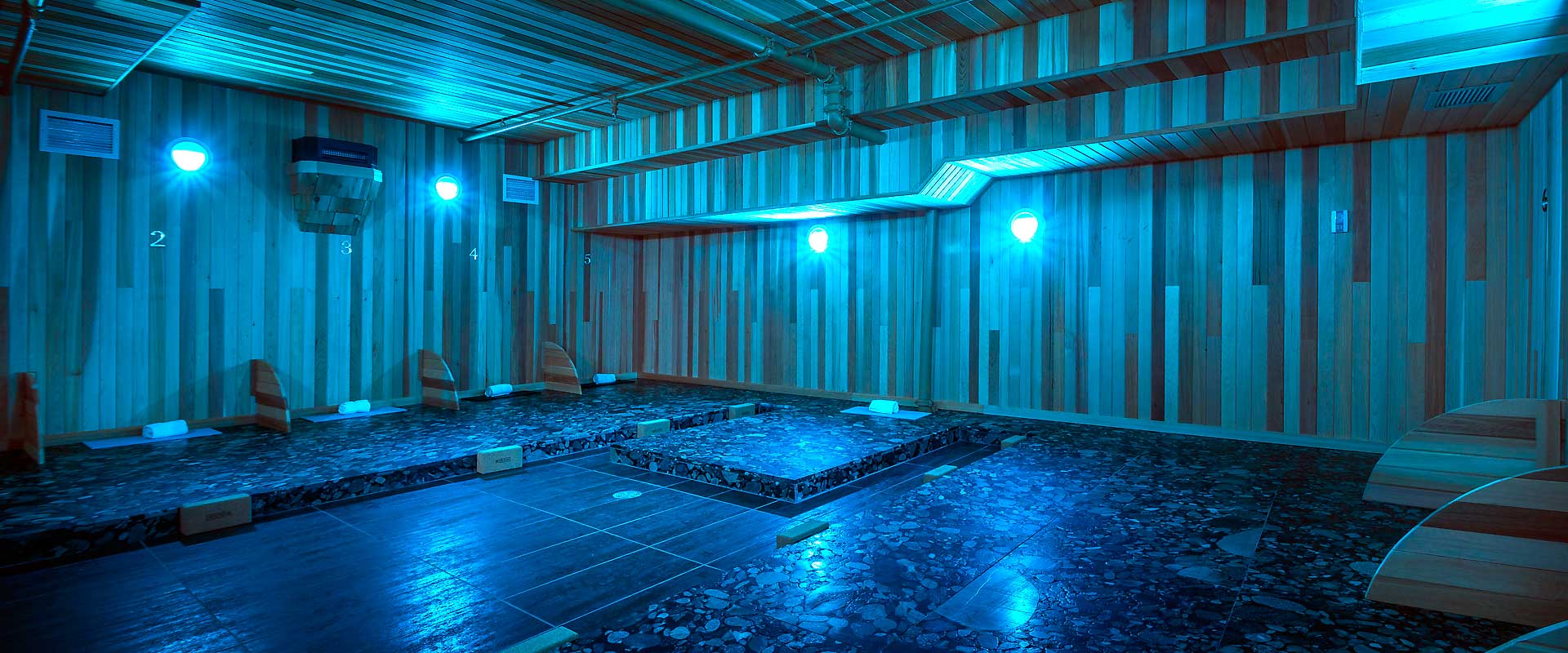 Large panoramic windows in the spa provide views of the majestic ski hills and ponds of Blue Mountain village while a calming spirit permeates the entire building.
The eccentric and eclectic furniture, decor, and signs all reflect their warm and friendly demeanour. They also offer hot stone massages and private hot tubs.
The studio known as Kanban, or "ganbanyoku," has a cozy volcanic rock floor as well as a relaxing hot stone bath, nonetheless, without water or bubbles.
The treatment relaxes muscles, flushes out toxins, and strengthens immunity while the floor is warmed by boiling water.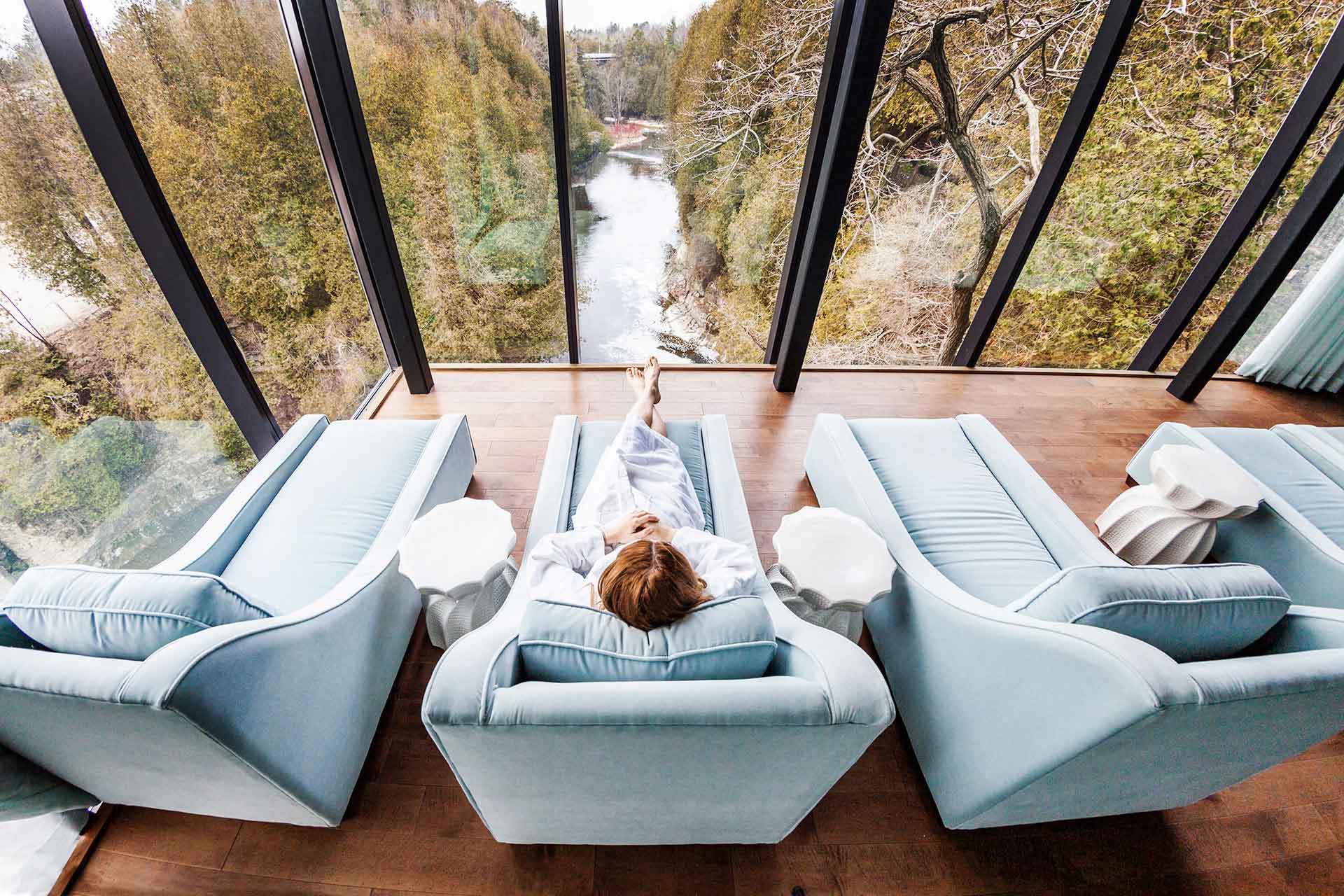 Just 30 minutes east of Kitchener's city center is the quaint little village of Elora is the best spa in Ontario.
This historic building, which is located on the Grand River's rocky narrows, has a rustic limestone exterior with breathtaking views of the Elora Gorge.
While providing subtle grandeur combined with modern amenities, this Ontario spa is superbly constructed to blend in with its surroundings.
One of the best locations to unwind and rest in the summertime warmth is the pool, which gives views of the raging seas.
There are also plenty of energizing treatments available at this spa and hotel, so it's not just about the getaways and pools here.
5. Spa Rosseau
Even the most anxious traveller will feel less anxious after travelling through Ontario's most renowned cottage area.
All of those tensions and concerns, however, will dissolve the moment you enter Spa Rosseau just at JW Rosseau Resort in Muskoka.
This spa and resort, which has one of the greatest views in Muskoka, is perched on a bluff with a view of the lovely Lake Rosseau. One of the Best Spas in Ontario.
All of the spa treatments are inspired by the elements of water, wind, and rock. The idea is to escape everything unnatural while utilizing the earth's energies for comfort and healing.
6. 100 Fountain Spa Niagara
Nothing like ending your day at the 100 Fountain Spa with a soothing spa treatment to top off a full day spent touring the amazing Niagara-on-the-Lake wineries.
The 100 Fountain Spa is equipped with a fitness center, a hot spring, a heated indoor pool, a hot tub, a heated outdoor pool, a heated outdoor pool, and a full menu of spa services.
The skin will feel smooth, supple, and sumptuous after receiving their anti-aging treatment.
When it comes to the best spa in Ontario, it's not just about rural retreats and mills from the nineteenth century.
For rituals and old-world practices that will leave you feeling light & invigorated, visit the Hamman Spa on King Street in Toronto.
With treatments like skin, hair, & body therapies, entering this urban sanctuary is like stepping into the bustling streets of Morocco.
One of the hallmark treatments at this Toronto spa uses clay extracted from Morocco's Atlas Mountains.
8. Four Seasons Spa Resort
The spa at Four Seasons, Toronto, features a chic and contemporary design that embodies the kind of cutting-edge wellness combined with luxury and comfort that many city people yearn for.
This spa, located on the ninth story of one of Toronto's most famous hotels, offers not only stunning views of the city but also provides exquisite treatments that will have you feeling like a queen.
Additionally, you can make use of their famous body cleanses, massages, & even their hair & nail salon.
Additionally, the Four Seasons resort features a medical spa that offers "skin-enhancing" procedures to make you look and feel your best.
Sir Sam's Inn & Spa is a luxury inn and spa for adults only that has a special location on the shore of Eagle Lake.
This retreat has four distinct seasons and provides a peaceful getaway for couples to unwind and rekindle their relationship amid nature.
The resort offers accommodations, fine food, spa services, and outdoor activities—everything you could reasonably need for total relaxation.
It's one of Ontario's most secluded spa resorts, making it the ideal location for a romantic trip.
It is emerging as the best spa in Ontario, everything you could reasonably desire from an Ontario spa holiday is available at the couples retreat.
It features private hot tubs, warm fireplaces, and balconies. On-site eating options include a unique wine cellar. 
Sir Sam's adults-only spa is the ideal getaway if you want to indulge in beauty and relaxation truly.
As the best spa in Ontario nearest to Downtown Toronto is Millcroft Inn & Spa, which is well known for providing the ideal blend of a rural getaway and contemporary elegance.
With both indoor & outdoor pools, a range of treatments, and healthy options that can be customized for each person, the emphasis here is on taking a holistic approach.
At the on-site spa & hot spring pools, you may unwind with a variety of self-care options, or you can savour a superb meal with views of the surroundings at the Headwaters Restaurant.
The Millcroft Spa has 17 treatment rooms, a fitness center, an outdoor hot spring pool, an indoor pool, a sauna, a jacuzzi, a steam room, a lounge with a wood-burning fireplace, and a cafe and restaurant with a full liquor license.
It is unquestionably the best spa close to Toronto.
11. Touchstone Resort
One of the most distinctive spa resorts in Ontario is Touchstone Resort.
It's the ideal location for rest and recovery away from the frantic pace of the city because it's directly on Lake Muskoka.
The property has a private sandy beach, docks for boats and swimming, as well as stunning lake views.
Luxury lodgings are available at Touchstone Resort, and many of the rooms have windows with lake views. Additionally, it features a restaurant on site where you can enjoy your five-course dinners while taking in the waterfront vistas from the dining room.
It's the perfect place to pamper yourself with Ontario spa packages if you're there for a relaxing holiday due to its spa services and amenities.
EndNote
We have made this detailed guide on the Best Spa in Ontario for you to spend a weekend at a spa resort, it can be the ideal retreat if you're seeking a peaceful getaway to unwind and revitalize yourself.
In Ontario, there are several resort options, each with its amenities, services, and treatments.
These are the Ontario spas & inns for every kind of retreat, from all-inclusive facilities on heritage estates to spas with Scandinavian design influences.
Frequently Asked Questions
How long should you sit in a spa?
Your sessions should preferably be scheduled to run somewhere around 15 and 30 minutes.
Do you wear clothes in a spa?
Most resorts recommend non-restrictive clothing, such as yoga pants, lounge trousers, T-shirts, and bathrobes, because they want their visitors to feel as at ease as possible.
What is the benefit of going to the spa?
Spa treatments can also increase the body's immunological response, decrease bodily pain, and improve circulation.