Food
Top 10 Amazing Toronto French Restaurants
Whether for your next date night, friends reunion, or birthday celebration, the Toronto French restaurants listed below will be a perfect choice.
With so many cuisines to explore, the French top the list when you are in the mood for something extravagant.
The wine, cheese, and mouthwatering menus at Toronto french restaurants will have you saying "oui."
It does feel as if you're enjoying la vie en rose when you're dining at one of these establishments.
These locations will take you away from Toronto's hectic nine-to-five, overachieving way of life and into the calm lanes of Paris' Latin quarter, where a laissez-faire mentality rules.
Top 10 Amazing Toronto French Restaurants
Nothing compares to the tried-and-true French culinary classics, from a croissant madame with béchamel to a sizzling hot pan filled with luscious escargot bathed in heated butter.
Whether you're looking for the ideal beef bourguignon or prefer the surprise of creative modern French-inspired cooking, Toronto's top French restaurants have you covered.
Toronto French restaurants have unique designs and food you will adore!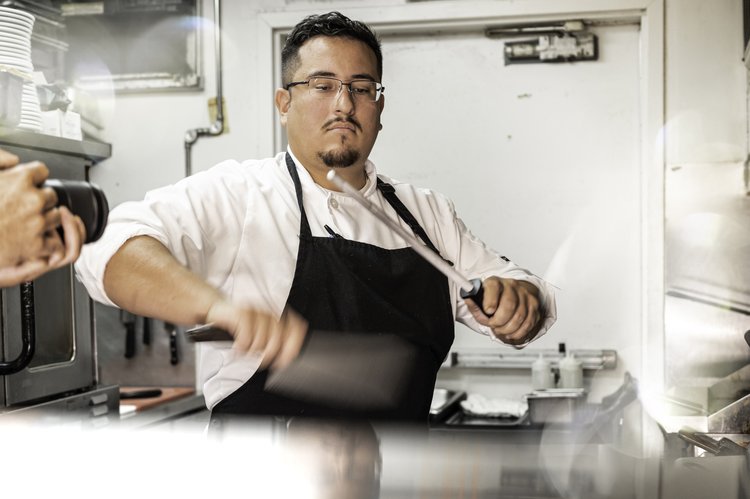 Some of the best French food in the city is served at Auberge du Pommier.
It is a gem at Yonge and York Mills and a popular spot for important business lunches in this area of the city.
An auberge is a type of tiny hotel, and the interior has carpeting and a hotel-like feel. To top it all off, there is a maitre d'hôtel who looks like he belongs in The Grand Budapest Hotel.
You are escorted to their cushy seats, the backs of which are all whimsically inscribed with French words.
Tables are scattered throughout Auberge's rich, pleasantly cavernous spaces, giving it a fairy-tale aesthetic. Auberge is among the best french restaurants in Toronto.
It evokes the feeling of a luxurious home that has been transformed into an opulent B&B, complete with fireplaces and trinkets of miniature dogs and birds.
Must Try Delicacies
A North York State of Mind cocktail from the bar costs $16, it is a delightfully sweet and sour drunken cherry used as the garnish.
A rustic cornbread is stacked with rhubarb, hibiscus ginger snaps, an acidic pink powder, and a sugar glass tuille on top of the appetizer foie ($28), which is fed corn from Quebec.
The richness of the foie is balanced by the dish's sweet, acidic, and salty flavours, which awaken the tongue.
The $27 scallop and octopus dish is airy and ethereal. A meat slicer is used to make a thin foundation layer for an octopus carpaccio, which is then layered with tentacles, 3 seared scallops, deep-fried tapioca pearls, flavorful cucumber balls, a harissa sauce, vivid avocado puree, and fresh dill.
Two gorgeous slices of duck breast are served in the duck entree ($44), along with a small serving of wheatberry risotto, quince agrodolce sweet & sour sauce, Spanish Albufera sauce, crisp radical red atomic carrots, & croquettes of confit duck leg & foie gras that are delectable on their own.
Among all the best Toronto French restaurants, Le Baratin is happy to deliver original, fresh dishes that are representative of classic French cuisine. The restaurant has a warm, comfortable atmosphere and wonderful meals.
Depending on the hour, they provide varied breakfast and dinner menu selections. They make all of their sauces in-house using a veal-based stock.
Everything is served in generous portions. A three-course supper costs $55, a two-course meal costs $45, and a three-course vegetarian meal costs $45.
Must Try Delicacies
The Steak Frites are a customer favourite. This dish includes fries, mixed greens, and a sirloin steak that has been marinated and fried with shallot sauce.
Have a dessert of creme brulee to round out your dinner. You can savour their mouthwatering fare in the convenience of your own home.
Le Baratin is unquestionably the place to go if you're searching for a romantic evening dinner with French wine. They're open every day of the week from 5:30 pm to 9 pm, so you can try their hot, fresh cuisine.
3. Maison Selby– The Best Toronto French Restaurants
The cuisine at Maison Selby, which opened its doors in 1883, is influenced by bistro & cafe cuisines. You can enjoy gourmet meals in a setting that will take you to the 19th century.
A pleasant ambiance is created by adding a classy chandelier, candles that resemble those from Beauty & the Beast, wooden furniture, chic-coloured walls, and dim lighting.
Must Try Delicacies
They offer a large variety of savoury and delicious foods, warm beverages, and inventive dishes. Some of these are mouthwatering smoked salmon rillettes and beef chuck burgers with french onions.
Drinks charge between $14 and $18, dinner is between $8 and $149, and breakfast is between $6 and $32.
The Coq Au Vin is a popular dish with customers ($34). It includes red wine liquid, bacon, lardons, apple purée, and mushrooms.
The filling is tender and sweet, and the crust is buttery & flaky. Sweet raspberries are used as the garnish. Every course is expertly prepared, and the meals are always delectable.
Securing a spot among the best Toronto French restaurants, Alo's dining section offers a multi-course tasting menu & inviting tables that may seat 2-4 people ($185 per guest).
The flavours of the meal presented here are complex, each dish is expertly prepared to bring out its distinct flavour.
Additionally, Alo provides pickup and delivery services. A 10-course tasting menu is available in their main dining room for $135, and a wine pairing is an additional $65 per person.
Must Try Delicacies
If you want to sample a variety of foods in tiny portions, a tasting menu is a smart choice. The armada and scallop, as well as the tender Wagyu beef, are popular dishes.
It's difficult to eat something that has been so artfully arranged as to ruin the aesthetic. Based on the preferences of the patrons, the bartender makes them.
You must stop by here at least once if you want to sample fantastic, cutting-edge French cuisine while relaxing in a gorgeous setting.
One of the best Toronto French restaurants, Cluny Bistro is a sizable contemporary French restaurant with updated traditional cuisine and a gallic atmosphere.
It includes tiled floors, a lovely marble bar, and a gorgeous, sophisticated garden terrace that is lit by twinkling lights.
Must Try Delicacies
From small/large dishes ($6 to $147), cocktails ($15 to $20), desserts ($9.90 to $14.30), to breakfast, their menu offers a wide range of selections.
Salmon tartare, French onion soup, steak fries, and crispy asparagus are popular dishes. A lovely spherical dish was used to serve the coconut & lemon tart as dessert.
This is an excellent location to visit if you want to see a well-designed and visually appealing facility in the heart of Toronto's distillery district.
Visit this location today—there is plenty of seating both inside and on the terrace!
Classic French cuisine, a sizable wine selection, and a touch of European glitz are all available at Biff's Bistro, a relaxed eatery with a patio.
Enjoy their delicious, seasonally-driven cuisine, which includes traditional French bistro fare.
They have delectable supper, dessert, brunch, and appetizer options on their menu, all of which range in price from $7 to $42.
Must Try Delicacies
The most popular dishes include beef, mushroom soup, steak tartare, steak fries, fresh oysters (6 for $19 and 12 for $35), and duck confit. The meal's serving size is ideal, and it includes vegetables and a flavorful sauce.
Visit Biff's Bistro right away if you want to savour delectable French cuisine that was inspired by Parisian terraces!
This wildly popular wine & food court on Dundas West claims to be a worldwide restaurant and draws inspiration from a variety of cuisines.
The menu still has a strong French flavour, as evidenced by dishes like steak tartare, mousse and the extensive charcuterie selection.
The hip atmosphere is unmistakably reminiscent of the natural wine bars which are springing up all over Paris and don't always follow conventional French cooking methods.
This chic and contemporary French eatery is a must-visit location in North York for both professional lunches and romantic feasts.
The restaurant, which is both posh and exquisite, was built from two woodcutters' huts that were originally built in the 1860s.
Must Try Delicacies
Chef Tim Schulte transforms traditional French foods like foie gras, escargot, and tartare into cutting-edge works of art. Seasonal changes affect both the sample menu & the a la carte selections.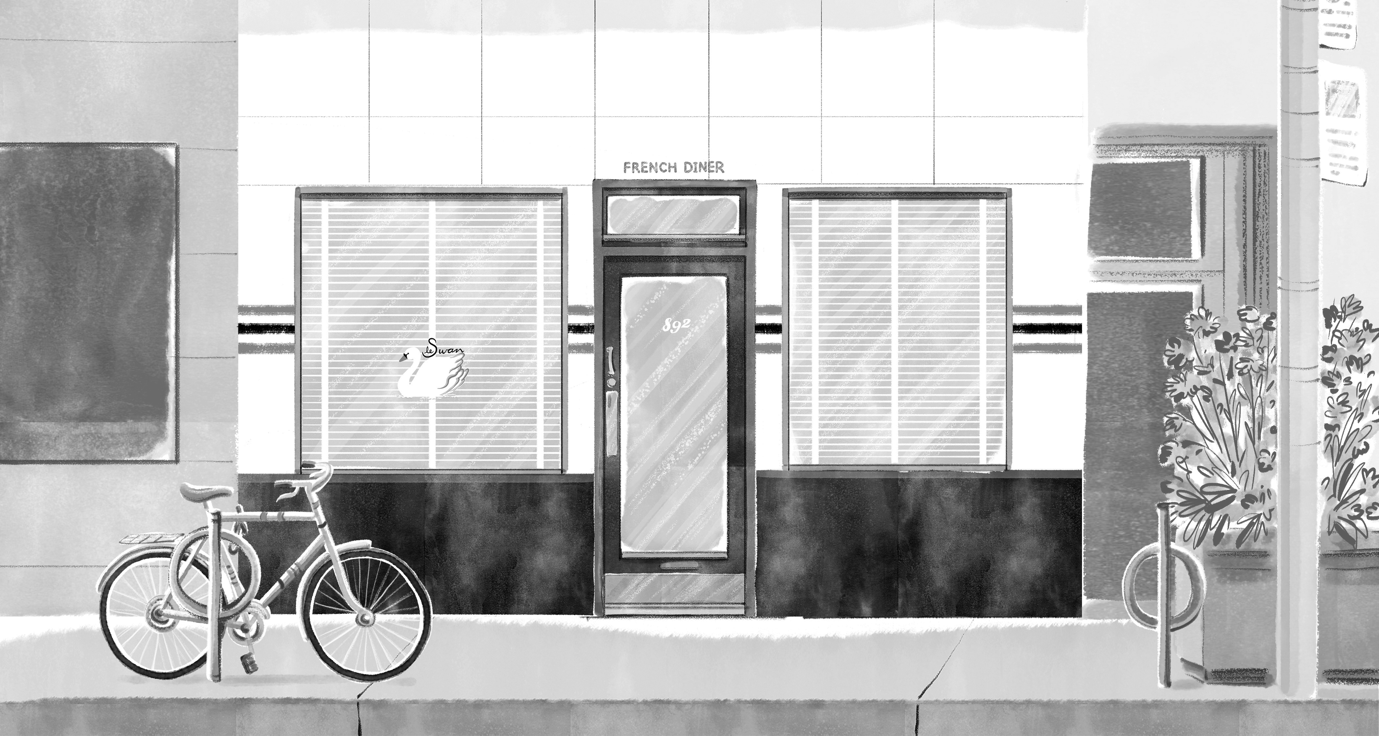 What do diner food and French cuisine have in common? Comfort.
The French diner provides American comfort food and classic bistro dishes in a setting with plush booths, art deco décor, and soft lighting.
Must Try Delicacies
Crisp fries, blanched green beans, delightfully jammy eggs, house-dried cherry tomatoes, and soft albacore tuna make up Le Swan's Salad Nicoise, which is a must-have.
Additionally, the steak fries are slathered with salty fries and herb butter.
The French word "pompette" refers to the happy condition that one experiences while surrounded by sensory pleasure.
To put it more simply, it is also the name of a French restaurant and cocktail bar, both of which honour the history of French cuisine and the local and seasonal foods on their menus.
Before you even take a bite, an expansive patio at the location that was once the home of Capitol generates a delightful feeling with wooden benches, movable chalkboard menus, and Parisian-looking pots.
Must Try Delicacies
Both, the sourdough and the smoked cod roe ($15) are homemade items. The taramasalata (a Greek dip) is an excellent refined companion, delivering a smoked, creamy, fishy flavour, and the bread is rustic but fluffy.
Leeks in creamy egg yolk with mustard seeds are an affordable Americanized version of the traditional French dish of leek in vinaigrette.
The sweetbreads are very filling, despite the visually smaller portion. They are crisp on the exterior, tender on the inside, and not at all chewy after being perfectly pan-fried in flour and gobs of butter.
The Ontario-grown sweet, crunchy tiny peas and the British Columbia-grown meaty, spongy morels both benefit from a robust, slow-cooked sauce with lots of body.
This is served with "Inopia" from the Rhone ($83 for the bottle), which goes well with the light beef and soft mushrooms and gives the dish a finishing touch.
Nearly 300 different wines, mostly from the old world but also some from Ontario, are included on the list, which primarily aims to highlight the winemakers.
Final Note: Toronto French Restaurants
French cuisine is sometimes recognized to be the most prestigious & revered cuisine in the entire globe. We have made this detailed guide on Toronto French restaurants for you to try.
Because of its professional skills, respect for high-quality ingredients and straightforward flavours, pride in the display, and rich & colorful history, French cuisine has become the most popular worldwide.
If you're searching for a sophisticated dining experience, check out these incredible French restaurants in Toronto!