Virginia is a state located in the southeastern part of the United States. Known as the "Old Dominion," Virginia is steeped in history and culture and is home to a diverse range of attractions and activities that draw visitors from all over the world.
Some of the most thrilling and well-liked amusement parks in the country may be found in Virginia. These parks are a must-visit location for families and anybody searching for fun and adventure since they provide a range of attractions and activities for guests of all ages.
Virginia's theme parks provide something for everyone, whether you're searching for a heart-pounding roller coaster ride or just want to unwind and take in the weather.
Here are the 3 Best Amusement Parks in Virginia:
Amusement parks in Virginia Beach are a great place for families and teenagers to spend their time and have a great day outing.
1. Motorworld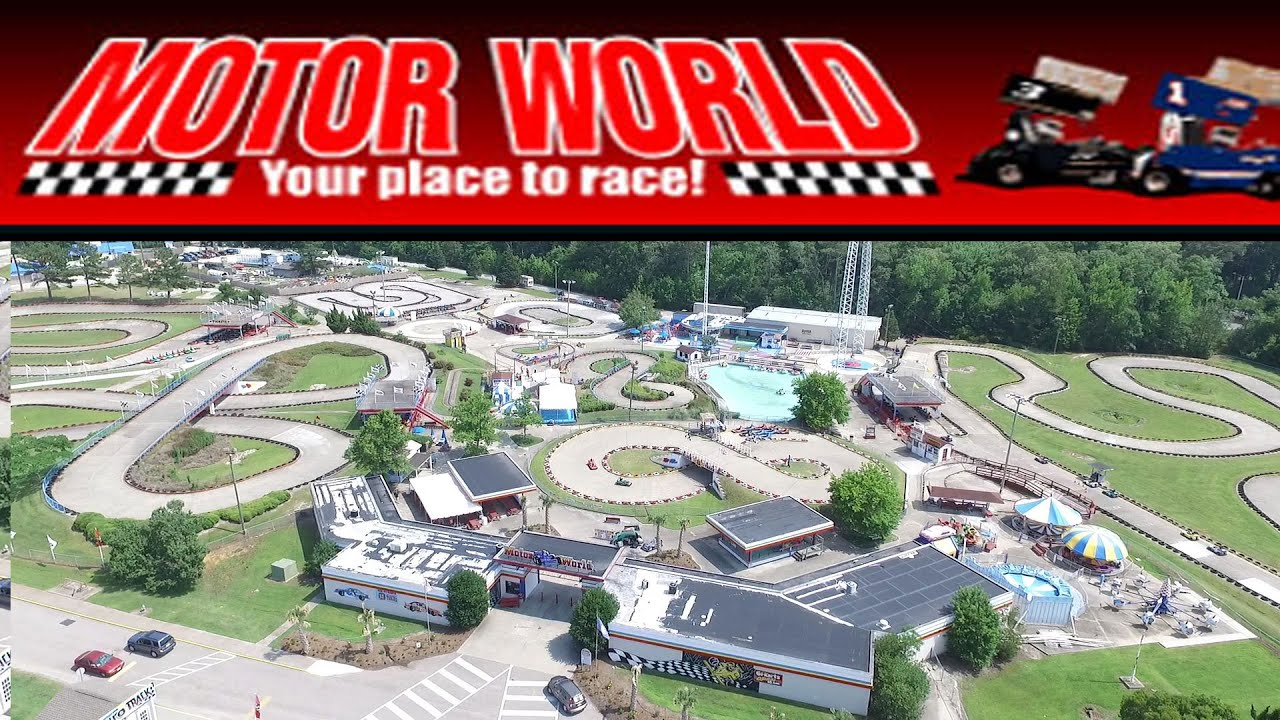 Motor World Virginia is a theme park located near Virginia Beach. It offers a variety of fun activities and attractions for visitors of all ages. You can visit the official Motor World website here.
Address: 700 S Birdneck Rd, Virginia Beach, VA 23451, United States.
What to Expect?
1.1 Go-Karting 
Motor World Virginia is well-known for its go-kart racing tracks. The 11 accessible tracks include a smooth track, a junior track, a kid track, and a Grand Prix track. Each course has its own unique qualities and challenges. You can compete alone or with close friends and family.
1.2 Skycoster
The thrilling Skycoaster lifts riders 130 feet into the air before sending them down to the ground in free fall. You can choose to travel alone or with up to two other people.
1.3 Kids Entertainment
Many kiddie rides, including a carousel, a train ride, and a miniature Ferris wheel, are available at Motor World Virginia for smaller children. At the park's bumper boat pool, visitors may splash about and collide with other boats.
1.4 Paintball
You may play paintball with your friends and family at Motor World Virginia. There are several options available, each with its own special challenges.
1.5 Mini Golf
There is an 18-hole mini golf course at Motor World Virginia. It's a terrific way to unwind and take part in some fun competition.
1.6 Vintage Games
A range of vintage and contemporary games, such as air hockey, skeeball, and racing games, are available in the park's arcade.
1.7 Food and Drink
Burgers, hot dogs, pizza, and other fast food items are available in the snack bar at Motor World Virginia. Also, there are several snack and beverage carts scattered about the park.
1.8 Event Hosting
Birthday celebrations, business functions, and other special occasions are all welcome at Motor World Virginia. Go-karting, mini-golf, and arcade games are among the party packages offered by the park.
Safety
Safety is a top priority at Motor World Virginia. Strict safety procedures are in place at the park, including required safety briefings and safety equipment for certain rides and attractions.
Ticket Pricing
Although Motor World Virginia is free to enter, in order to use the rides and attractions, you must purchase tickets or wristbands. The park's hours change according to the season and are open from March to November.
To confirm the park's operating hours and the availability of rides and attractions, it is advised to visit its website or give it a call in advance.
Overall, Motor World Virginia is a fantastic destination for some fun and excitement for the whole family. This amusement park has something for everyone, whether you're searching for excitement or just a laid-back day out.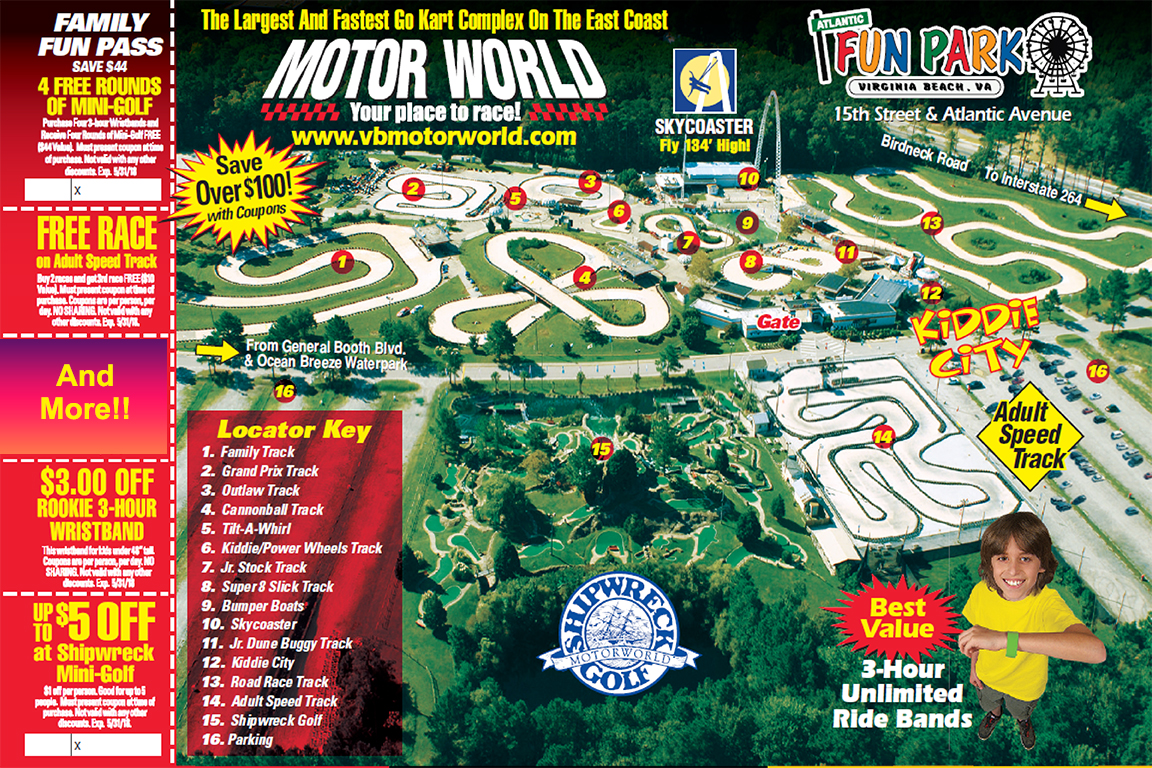 2. Busch Gardens, Williamsburg
In Williamsburg, Virginia, there is an amusement park called Busch Gardens, Virginia. Anheuser-Busch, a well-known American brewer, first launched it in 1975, and it has since grown to be one of the most well-liked tourist attractions in the area. Check the official website here.
Address: 1 Busch Gardens Blvd, Williamsburg, VA 23185, United States.
The park is spread over 383 acres and is separated into many themed areas, each with its own activities, performances, and food choices.
What to Expect?
2.1 England
Replicas of some of England's most recognizable structures, including the Globe Theatre, the Tower Bridge, and the London Bridge, can be seen in this area of the park. The Griffon, one of the tallest and fastest diving roller coasters in the world, and the Loch Ness Monster, a traditional looping roller coaster, are among the attractions open to visitors.
2.2 Scotland
This area allows guests to experience the untamed nature of the Scottish Highlands with rides like the Alpengeist, a fast roller coaster that winds through the highlands, and the Curse of DarKastle, a dark ride through a haunted castle.
2.3 Ireland
This area of the park has a model of an Irish hamlet, complete with a tavern and a number of stores offering trinkets and presents with Celtic influences. The high-flying thrill ride Finnegan's Flyer and the virtual reality experience Battle for Eire are among the attractions in this area. Both transport guests on an action-packed journey through a fantastical world.
2.4 France
The park's French portion takes guests to the streets of Paris with rides including the Le Scoot, a traditional log flume ride, and the InvadR, a wooden roller coaster with a 74-foot drop.
2.5 Germany
This area of the park honors German culture with attractions including the Mach Tower, a drop tower with breathtaking views of the park, and the Verbolten, an indoor/outdoor roller coaster with startling drops, twists, and turns.
2.6 Italy
The park's most well-known attractions can be found in the Italian portion, including the steel roller coaster Apollo's Chariot, which has a sequence of airtime hills, and the water ride Roman Rapids, which transports riders on an exhilarating voyage through ancient Rome.
It also includes rides such as the rapids and is an interesting recollection of the history of Italy.
2.7 Exhibitions
Busch Gardens Virginia provides a range of live acts, including musical concerts, animal exhibitions, and theatrical productions, in addition to its many rides and attractions. Guests may choose from a variety of dining alternatives, including fine dining establishments and fast food joints.
2.8 Wild Safari
Last but not least, a variety of creatures, including wolves, eagles, and even a bald eagle, may be seen in Busch Gardens Virginia. Among the park's several attractions and exhibits, such as Jack Hanna's Wild Reserve and the Eagle Ridge display, visitors may get up-close views of these species.
In conclusion, Busch Gardens Virginia provides guests with a distinctive and thrilling experience by fusing exhilarating rides, live entertainment, breathtaking landscape, and celebrating European history and culture.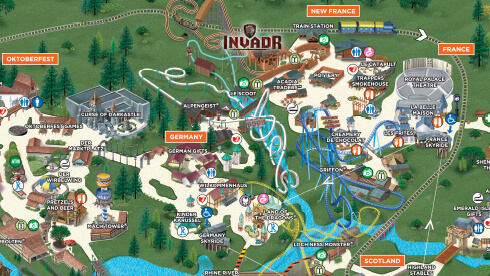 3. Splash Down Waterpark 
In Manassas, Virginia, there is a well-known water park called Splash Down. It offers a range of water activities for guests of all ages, including lazy rivers, wave pools, water slides, and kids' play zones. Visit the official website at splashdownwaterpark.com.
Address: 7500 Ben Lomond Park Rd, Manassas, VA 20109, United States.
What to Expect?
The Splash Down Waterpark's key features are broken down as follows:
3.1 Water Slides
There are several water slides in the park, such as the Free Fall, which plunges riders down a 70-foot vertical drop, and the Double Barrel Blast, which has two enclosed tubes and a 360-degree loop.
3.2 Wave Pools
For guests of all ages, the park's wave pools are a favorite attraction. For those who enjoy swimming and playing in the waves, the Breaker Beach Wave Pool offers waves that may grow to a height of four feet.
3.3 Lazy Rivers
For those looking to unwind and take a calm, leisurely trip down the river, the park's lazy rivers are ideal. While the Rio Rapids Action River offers a more thrilling experience with rapids and waterfalls to traverse, the Little Rio Lazy River is a well-liked attraction for families with little children.
3.4 Children's Play Areas
The Splash Pad and the Lagoon, both of which include a range of interactive water elements and play structures, are two of the play zones at Splash Down Waterpark that are particularly created for younger children.
3.5 Additional Amenities
In addition to these features, Splash Down Waterpark provides a number of other conveniences to make sure guests have a relaxing and pleasurable day. These facilities consist of:
3.5.1 Food Service
Many food and beverage options are available throughout the park, including a full-service restaurant, a pizza stand, and a snack bar. Although coolers are allowed in the park, visitors may also bring their own food and beverages.
 3.5.2 Cabanas
The park rents out a range of cabanas for guests who prefer a more secluded and cosy setting. These cabanas offer seats, shade, plus extras like a mini-fridge and a television.
3.5.3 Locker Rentals
Renting a locker allows visitors to keep their stuff while enjoying the park's activities.
3.5.4 Souvenir Shops
Swimsuits, towels, and other souvenirs may be bought in the park's gift shop to make their stay more memorable.
Overall, Splash Down Waterpark offers guests of all ages a pleasant and memorable experience. It is a well-liked location for families and anybody wishing to cool down and have fun during the hot summer months in Virginia because of its array of water activities, facilities, and services.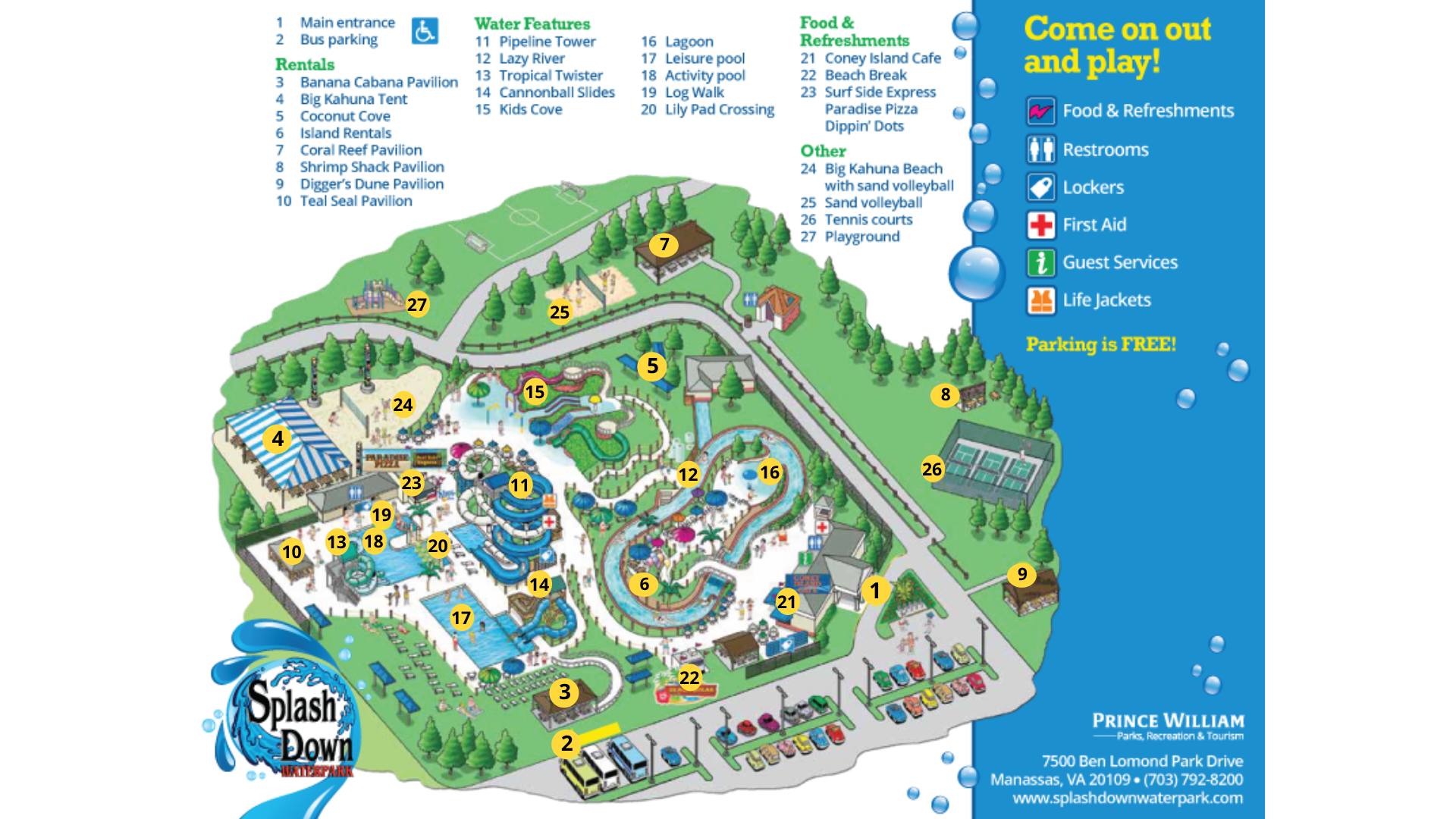 Conclusion
The amusement parks in Virginia include a wide range of attractions and activities to suit guests of all ages and interests. There is something for everyone to enjoy, from the European-themed Busch Gardens Virginia to the unique experience in the motor world for motor or car enthusiasts and the aquatic attractions at Splash Down Waterpark.
Everyone seeking enjoyment, excitement, and priceless memories has to visit these parks.
However, these three amusement parks in Virginia stand out from the rest of the theme parks in Virginia as they provide an attraction that is unique and provides a unique experience to the people who are present there.
These theme parks in Virginia are worth the visit for someone who is in Virginia or planning to travel there.
Read more from us here.