Food
10 Most Popular Breakfast Restaurants in Ottawa
Be it to cure a hangover, meet your pals for brunch, or a simple family Sunday meet, these breakfast restaurants in Ottawa will love to serve you.
Finding the greatest breakfast places can be challenging in Ottawa because of its size. Be at ease, though!
This list lays out the top-rated breakfast restaurants in Ottawa that use regional ingredients, provide a wide range of cuisines, and also have a pleasant ambiance.
Best Breakfast Restaurants in Ottawa
Choose one today to get your day off to a great start with these fantastic breakfast spots in Ottawa.
Continue reading to learn more about the best breakfast restaurants in Ottawa!
1. Amazing Breakfast at Fraser
One of the best breakfast restaurants for your next dinner, go no further than Fraser.
Since the time it originally opened its doors, it has become a well-liked neighbourhood eatery in New Edinburgh with a huge selection of entrees, such as salmon rillette, and delicious starters, like fries and beets.
This restaurant offers plenty to offer everyone, whether you want to have a lovely meal with companions or want some decent, old-fashioned food in solitude without loud music playing all the time.
There will never be another boring dinner because of their broad menu, which is updated periodically. You can enjoy daily breakfast, hangover breakfast, big breakfast, and baked goods in this brunch spot.
Chesterfield's Gastro offers a variety of traditional diner meals and adds unique twists while considering healthier lifestyle options that are more eco-friendly, like recycling or using green electricity!
You can enjoy home fries, seafood, and a patio in this world-class spot for breakfast at a fair price.
The facility is small but undoubtedly packs a lot of charm in such an iconic location, and the staff is prompt and courteous.
If you're seeking something other than conventional breakfast dishes this time around, they have a variety of sides like turkey bacon, morning poutine, or loaded avocado that are excellent to go with your main dish.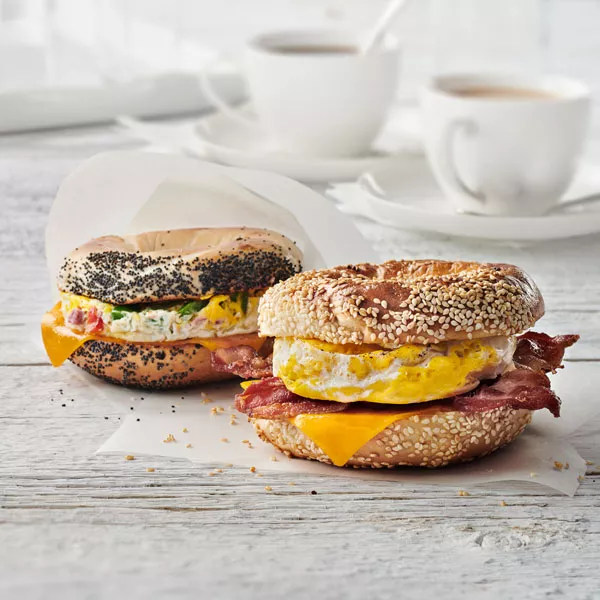 To produce a high-quality product that was as genuine and traditional for Montrealers as possible, founder Craig Buckley established his first Kettlemans Bagel in Ottawa.
This has been their motivation ever since, and we are confident you'll adore their goodies, they come in the list of best breakfast restaurants in Ottawa.
Situated at Westin Ottawa, this is a fantastic place for brunch. You can purchase bagels filled with traditional deli sandwich ingredients, as well as unusual Kettleman's salads and standard caesar salads, as well as great coffee.
The most well-known bagel store in Montreal makes 6000 fresh bagels daily and is open 24 hours a day, 365 days a year (including holidays).
They offer vegetarian & vegan options, and everything is always delicious and freshly prepared dessert.
Furthermore, they have an incredible range of doughnuts that will satisfy even your harshest critic.
The room has a great interior layout and colour scheme, and the facilities are first-rate. They are offering a lot to anybody that enters, whether they're seeking interior seats or outdoor ambiance!
Since it's in such a convenient position, parking is never a problem nearby. Additionally, the pricing was unbeatably low compared to those of other neighbouring cafes.
An extremely fantastic breakfast establishment that provides brunch with Mediterranean influences produced using local Canadian ingredients.
They offer a wide range of selections, and almost all of their dishes are excellent!
The pistachio pancakes, omelets, and shakshuka are all worth trying (a type of egg bake). They also have fantastic Turkish coffee.
Along with the wonderful meal, the staff provides outstanding customer service. As soon as you enter this restaurant, you can't help but feel in love with how cozy it is.
6. Wilf and Ada's
Since it originally opened, Wilf and Ada's has been providing all of your breakfast requirements in a welcoming environment.
The triple-decker dagwood sandwich is indeed a must-have for any hungry tourist, which makes sense.
Along with being served on gluten-free bread, their chefs work hard to ensure that you receive only the freshest ingredients from their kitchen!
The service is polite and warm, and the aroma of their poutine and smoked bacon is just enticing enough to make you need food even before your dinner has even begun!
You can meet with your pals in Ottawa's Hintonburg neighbourhood and have a beautifully prepared breakfast in a cozy, welcoming environment.
The vegetarian selections here appeal to everyone, they also offer Mish Mash Hash, which is a potato hash with beans, ham, and side eggs.
After relocating to Canada from the Philippines, the founders of the Tamis Cafe launched TAMIS, an enticing food truck serving meals influenced by homestyle cooking customs.
The restaurant's food is different from what you would anticipate. By using vegetables in unexpected ways, they give traditional Filipino ingredients a fresh spin.
One example is their Fresh Lumpia, which is made with sautéed sweet potatoes, potatoes, carrots, green beans, and lettuce and topped with homemade peanut sauce.
They also use sautéed egg noodles for their Spaghetti Bolognese dish. A must-try for sure!
A nice spot among the best breakfast restaurants in Ottawa is Chez Lucien at the entrance of the Byward Market.
There is a daily selection of cake varieties to choose from if you're in the mood for something sweeter. And their cheeseburger is to die for, literally.
This place's interior is incredibly pleasant, especially when a fireplace is blazing in the winter. One of the nicest ways to spend a Sunday here is to listen to live jazz music!
It can be challenging to locate a better spot in Ottawa to get the ideal cup of coffee for the morning than this.
Independent franchise owners sell organic coffees here, hence its name in the list of the best breakfast restaurants in Ottawa.
Their scones and bagels are the best, a must-try for sure!
Final Note
There is something for everyone in Ottawa, from fresh fruit to eggs benedict to French toast, all at a reasonable cost.
The greatest breakfast places in Ottawa are included on this list. So be sure to try out one of these restaurants if you're searching for somewhere to eat this morning!
And let us know which one of the best breakfast restaurants you liked the most!