Food
10 Spots to have the Best Pizza in Ottawa
Pizza is often the solution when you've recently experienced a breakup, gotten your dream job, passed a test, or just had a horrible day.
Fortunately, there are many fantastic restaurants in our capital city, and these places serving the best pizza in Ottawa are ideal to eat your problems away.
Ottawa is well known for being a foodie's paradise. In addition to our bucket list of deserving food trucks and life-changing shawarma, there are several truly mouthwatering pizzerias.
Read on to explore the top spots serving the best pizza in Ottawa.
Best Pizza in Ottawa
The nicest part is that no matter how much money you have left in your pocket, you can still eat a filling, doughy meal in Ottawa.
There is a unique pizza out there for you to love, regardless of whether you are vegan, vegetarian, gluten-free, or a little bit of everything!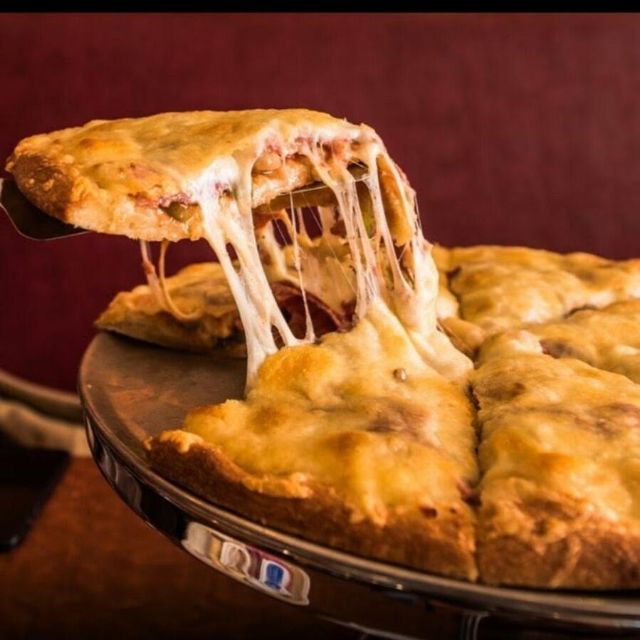 There's a reason why customers keep returning to Colonnade Pizza after more than 25 years of it serving some of the tastiest pies.
You may try the Mediterranean pizza featuring black olives, parmesan cheese, sweet red peppers, and artichokes if you're in the mood for something light & flavorful.
In either case, you'll undoubtedly feel satisfied after eating at Colonnade Pizza. Their specialty & single-topping pizzas have a classic dough and are known to be laden with fresh ingredients.
Again, you are looking for a hot, delectable lunch that won't break the wallet and has exactly what you need.
They offer a variety of delectable dishes, including their renowned pizza, to delight every member of the family.
And if you're pressed for time, no worries, as with their take-out service, a hot supper can be on the table in no time.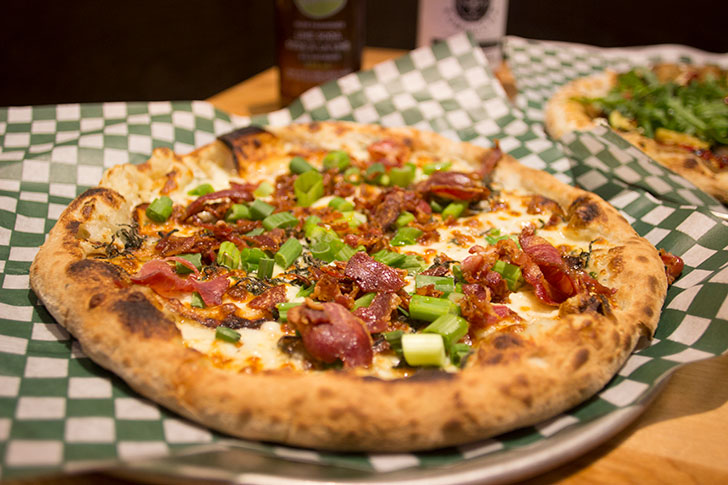 You can go right to Fiazza with one of their fantastic trademark pizzas or by designing your own off the menu.
They offer Neapolitan-style pizzas that are made fresh to order in Woodstone ovens that reach high temperatures, they are authentic because of the fire!
The traditional thin crust containing mushrooms is available and won't let you down. Additionally, they produce vegan crust, vegan cheese, imitation meats, tofu, and a variety of vegetable toppings.
Their delicious thin-crust pizza is freshly baked in front of you and is fully customizable.
People who have reviewed it have compared it to "Subway for pizza, only better" because you get to pick the toppings before they put your pizza in the oven.
This personal-sized pizza has an $8.55 price and may be customized with a range of toppings and cheeses for an additional $1.35 to $2.35. 
Italian food is taken extremely seriously at Tangerine. Each day every meal is made from scratch, utilizing only the freshest ingredients from regional suppliers.
They offer all of the traditional Italian dishes you might anticipate seeing on an authentic Italian menu, as well as a few gourmet variations, it offers you the Best Pizza in Ottawa.
It would help if you tasted their famous tangerine pizza, which has mushrooms, pepperoni, green peppers, olives, and tangerine sauce, of course.
You're bound to find something you like at Tangerine, whether you're in the mood for a straightforward margarita or anything a little more daring.
The next time you're searching for a mouthwatering pizza, remember to stop by Anthony's. The Rustica is a great choice because it has cherry tomatoes, arugula, and grated parmesan.
Anthony's features excellent meals and a warm ambiance that is ideal for a date or a night out with friends.
They also have different sizes that are ideal for one person, so don't worry if you're concerned about getting overstuffed after eating a whole pizza.
So make sure to check out Anthony's whether you're searching for a delicious meal or simply a little piece of bliss.
These guys can create some delicious pizza, for sure!
Pizzas like the Pirlo, created with homemade sauce, fresh mozzarella, arugula, and shaved pecorino, are among the wide varieties they offer.
Order Bria if you wish to try something different, red onions, capers, and some smoked salmon are on this pizza. For pizza lovers, it's a terrific place to find delicious pizza.
An Ottawa icon, it was built where Canada's first major tourist attraction stood before it was destroyed by fire nearly a century later.
There is only one size of their authentic Napoletana pizza, and it is the ideal balance of flavour.
Hand-kneaded refined type Italian wheat flour is used to make the dough, which is then topped with raw, pureed San Marzano tomatoes from northern Italy.
Visit The Grand if you're searching for a truly exceptional dining experience. Due to its prime location in the ByWard Market, the Grand is arguably the city's most well-known pizzeria.
The restaurant has a wonderfully cozy ambiance, and their pizza is everything you could ask for and more. Additionally, they offer gluten-free crust, so there is no reason not to
Serving one of the best pizzas in Ottawa, your upcoming dinner party will be a hit at Heartbreakers Pizza. In addition to specializing in tasty food, they also use organic wheat and local ingredients to make their pizzas.
This emphasizes freshness above all else and supports the neighbourhood farmers who raise the ingredients.
Heartbreakers don't use any artificial flavours or preservatives. Their natural wine bottle store only has top-notch wines that pair well with the various pizzas on their menu.
Try their specialty Fennel & Sausage pizza, made with aged & fresh mozzarella, farms pork sausage, and fresh fennel that has been roasted. You won't be let down!
Family-run Tomaso Grilled Pizza & Panini offers a unique take on the pizza experience.
Their thin-crust pizza is already wonderful, but the added smokey flavour from grilling the crust before baking makes it even better.
They use only fresh, flavorful products, so anyone who prefers to live a healthier lifestyle will be delighted.
Pizza eatery Crust and Crate is known for its Al Forno-style pizzas and amazing beer.
Their laid-back restaurant, which has an industrial aesthetic, is a terrific place to spend an evening with friends.
You can order any pizza you could want from their menu, but be warned that it's difficult to pick just one!
Final Note: Best Pizza in Ottawa
The best pizza in Ottawa is unmatched in quality and provides a vast selection of toppings & pizza varieties.
These pizza joints are fantastic and are guaranteed to become your new favourite whether you want a traditional inexpensive slice or want to go to an elegant, gourmet pizzeria!
Have one extra slice for me as well, will you?
Explore more amazing articles here!