May it be for an extraordinary date, a family outing, or a friend's reunion, skating is something everyone will enjoy to the fullest.
The best place to go in the winter is Ottawa, especially for outdoor ice skating. Where else can you spin around on an ice rink at a historical monument, skate through the forest, or glide along the largest skating surface in the world—right in the middle of the city?
No matter what level you skate at, we have compiled some of the most amazing public skating in Ottawa experiences that you can have here.
You should visit one of these skating tracks if experiencing a spectacular outdoor skate is now on your winter bucket list for Ottawa.
Best Places for Public Skating in Ottawa
Regardless of whether you're searching for a twisting ice trail into an evergreen forest or a free urban rink close to other activities, continue reading to learn more about public skating in Ottawa.
1. Rideau Canal Skateway
As the biggest naturally frozen skate rink in the world, the 7.8-kilometre Rideau Canal Skateway has become one of the most well-known skating destinations in the world.
Take in the picturesque cityscape views as you glide down the ice from central Ottawa all the distance to Dows Lake far beyond. Comes in the place to do Public Skating in Ottawa.
In one of the heated cabins on the Skateway, which also has restrooms, you may warm yourself or take a break along the way.
It's a Canadian experience to consume one of these mouthwatering Ottawa sweets while skating on the skateway!
From around January through late February or early March, the skateway is open 24 hours per day, seven days per week.
If you don't have your skates, you can borrow some at one of the rental facilities on the skateway, along with additional skating equipment.
If skating is not your thing, you can walk on the skateway or ask a buddy to push you in a rental sled.
2. The Rinks of Dreams
The free, outdoor rinks in Ottawa are a terrific alternative whenever the Rideau canal is shut due to inclement weather.
Enjoy the music playing through the speakers, and stay after sunset to see the rink illuminated in various hues.
The Rink of Dreams typically operates seven days a week from mid-December until mid-March. On evenings & weekends, a warming station is open, and on weekends, skate rental & sharpening services, in addition to a BeaverTails kiosk, are also accessible.
3. Lansdowne Skating Court
Just south of Ottawa's downtown area, at Lansdowne, there is another outdoor refrigerated ice rink.
The old Aberdeen pavilion, which offers a lovely backdrop for pictures and practical restrooms, is right next to the skating court.
From about December through the middle of March, the skating court is normally open, and admission is free!
Although there are no skate rentals available here, you can easily change into a pair of your own in the trailer.
When you've had enough fresh air, visit one of the numerous shops or restaurants on Lansdowne, along bank street in the thriving Glebe neighbourhood, to do some shopping or grab a bite to eat.
4. Rideau Hall Ice Skating
Skate on the authentic 1870s skating ice at the Governor General of Canada's house, which is located just east of downtown, and retrace the steps of 19th-century dignitaries.
Around January through March, the lovely outdoor rink at Rideau hall is open to the public for free skating. You can enjoy figure skating, skating parties, and free public skating here.
5. Museum Skating Rink
With its domesticated animals and hands-on learning opportunities, the Canada Agriculture & Food Museum is a well-liked destination for families.
Additionally, this urban working farm features its outside skating rink!
Admission to the rink is included in the cost of the tickets for a fun museum visit. This rink opens later in the winter and is more weather-dependent.
6. Brewery Creek Skating rinks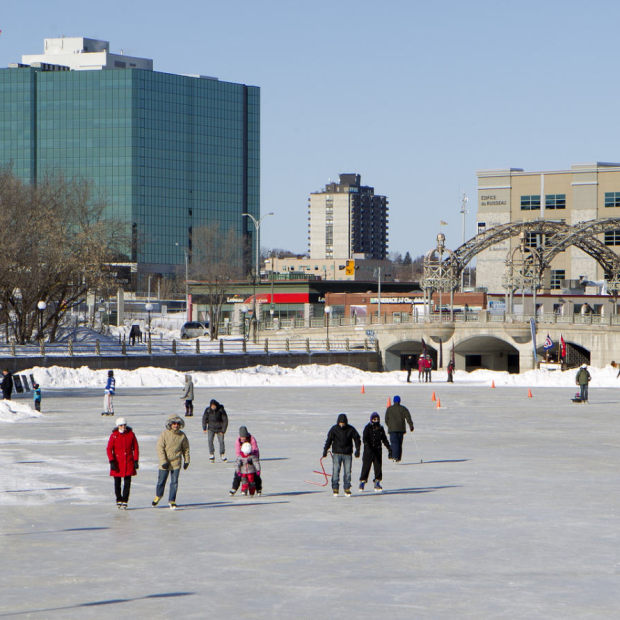 The Brewery Creek Skating Rink is located in the Outaouais area of Quebec, less than ten minute's drive from the heart of Ottawa.
It's like a tiny version of the Rideau canal skateway, which winds its way around for roughly 400 meters (0.25 miles). From January through March, this outdoor rink is open for business (weather permitting).
7. Pathways for Outdoor Skating Rink
Skating routes through the forest are the hottest skating fad, and the picturesque rural areas around Ottawa are totally on board!
To sample this magical experience and other enjoyable activities, travel to the following destinations between mid-December and early March (depending on the weather). Some even provide enchanted skating events in the evening!
On some of the rinks, sports enthusiasts can even bring their ringette and hockey equipment to play shinny!
A 3-kilometre (1.8-mile) track winds through a forested natural setting at Countryside Adventures near Moose Creek, which is 1.5 hours from Montreal and 45 minutes east of Ottawa.
Snowshoe and walk on designated trails, or glide over the 3-kilometre (1.8-mile) open-air ice circle that weaves between thick forests.
At Éco-Odyssée, a natural center near Wakefield, Quebec, about 30 minutes north of downtown Ottawa, you may now skate just on frozen water mazes.
The 3 miles (4.8 kilometres) of ice paths lead you through marshes, woodlands, and farmland, among other environments. Evening colour lighting is also used to illuminate the pathways!
Final Note
The snowshoeing & hiking trails are open to non-skaters, and anybody can warm up in the quaint heritage barn. Either way, it will be an amazing experience.
If you like this guide on Public Skating in Ottawa, then share your thoughts in the comment section. Have fun!
Also, check out the 9 best steakhouses in Ottawa for satiating your hunger later.
Frequently Asked Questions
1. How many outdoor rinks are there in Ottawa?
About 250 outdoor local rinks can be found in Ottawa, varying from little "puddles" (ice surfaces lacking boards) to large "rinks."
2. Is skating allowed in Ottawa?
The skate season normally lasts from January until the beginning of March, but this is reliant on the weather.
3. How do I book an outdoor skating in Ottawa?
Five to fifteen working days prior to the specified date, submit a permission request form to confirm your reservation, a rink manager will get in touch with you.