Ottawa is well-known for its parliament buildings, but few people know its abundance of delicious food.
In the centre of downtown Ottawa, you may discover streets lined with flags from several nations. These flags show the street presence of that nation. So you want to know where to eat in Ottawa?
An excellent Italian bakery, Restaurant, and tavern can be found on Preston street, which also features an Italian flag. Discover the top restaurants in Ottawa by reading below!
We decided to list some of Ottawa's top restaurants to give you the answer to where to eat in Ottawa. Since a new, up-and-coming eatery debuted every day, you'll never run out of great restaurants in Ottawa.
There is something for everyone, from oyster bars and gourmet Dining to tiny restaurants and local eateries.
You'll have a lot of options, so choosing where to eat next could be challenging. Where to eat in Ottawa?
You need to look no further than the following list of the best restaurants in Ottawa if you're a visitor to Canada's capital or a local who wants to explore.
Best Ottawa Restaurants
From fine Dining to farmer's markets, the city of Ottawa is beginning to gain a reputation as a culinary because of new eateries and programs like Savour Ottawa, which encourages businesses to serve local fare.
The fact that most pho establishments in Chinatown stay open until five in the morning makes it one of the local go-to cuisines for partygoers in Ottawa, where there are many places to find.
But not all of these restaurants serve excellent meals. Vietnam palace serves Ottawa's best pho, hands down. However, unlike most other pho restaurants in Chinatown, this location has regular business hours and doesn't open till 5 am.
Do you not enjoy soup? A wide variety of beef dishes served with rice and rice noodles are available here.
Before leaving Ottawa, you must visit this Restaurant if you enjoy authentic Vietnamese cuisine. So you know where to eat in Ottawa at the Vietnam palace.
The thriving contemporary café Absinthe opened its doors in 2003 and offered a constantly-evolving menu of gourmet European food and drinks.
The Absinthe Café, which lives up to its name in terms of décor and food, is modelled after the 19th-century Parisian cafes where the 'green fairy' became a fabled green drink.
The dark oak tables, black leather booths, and moody lighting perfectly complement the Restaurant's theme. So you know where to eat in Ottawa at The Absinthe Cafe.
One of the top dining spots in Ottawa may be found when you combine it with modern comfort food and French specialties.
The popular Absinthe Steak Frites, which consists of a marinated & grilled AAA steak with green beans, fries, & horseradish aioli, is something we highly suggest.
La Bottega Nicastro seems to be a counter-service & specialty cuisine Restaurant that offers handmade lunch, wine, Italian beer, & takeout deli sandwiches.
La Bottega Nicastro is one of the most well-liked restaurants to try for its great quick nibbles when looking for relaxed places to eat lunch in Ottawa and enjoy french onion soup.
Since its opening in 1995, this Italian grocery store in the heart of the Byward Market has become a local favourite for its fantastic food, staff, vast deli items, and unique wine collection.
It can even accommodate special events, so keep this in mind if you have one coming up. So you know where to eat in Ottawa at La Bottega Nicastro.
We suggest selecting your preferred meat, bread, & cheese from the sandwich bar, along with the Spicy Eggplant, as your toppings because there are so many mouthwatering alternatives available.
It's a customer favourite and will give your sandwich that extra kick if you're craving something more intriguing.
Don't forget to match it with your preferred coffee or a glass of wine from La Bottega Wine Shop, and finish your dinner with the delectable Tiramisu, another menu staple.
4. Cumberland Pizza
For more than 45 years, Cumberland Pizza has provided dine-in and delivery customers with Pizza and authentic Greek food.
The best and tastiest Pizza in Ottawa is served at Cumberland, a must-visit for tourists and locals.
Although Cumberland's crusts are reasonable, their ingredients set them apart because they only employ the freshest, highest-quality ingredients.
One of the best restaurants in Ottawa, they're also worth going back to due to the 5-star service & the friendliest personnel.
From a selection of delectable toppings, including Mexican, Lebanese, and steak, you can pick two of your favourites and ask for half-and-half. So you know where to eat in Ottawa at Cumberland Pizza.
Findlay Creek Centre's Hunter's Public House Restaurant is a cutting-edge neighbourhood bar that offers premium fare and drinks in a warm and welcoming setting.
This mom-and-pop Restaurant is one of Ottawa's top places to eat and drink. Along with a wide variety of whiskies and regional craft beers, they also provide excellent pub food, including beer-infused nibbles, appetizers, sandwiches, salads, & main dishes.
Additionally, they have the best terrace for both summer & winter, a sizable, kid-friendly dining space with high ceilings and bright lighting, trivia nights, games, & live music for a fun atmosphere.
So you know where to eat in Ottawa at Hunter's Public House Restaurant.
The Gung Chung Chicken Sammy, a chicken burger featuring grilled chicken breast, hothouse tomato, cucumbers, mixed greens, and gung Chung mayo, is a favourite and is recommended.
It is delicious, comes in a substantial serving, and is best enjoyed with a fantastic lager.
Near the Best Western Plus Hotel, in a former bank, is a trendy, opulent café called Gezellig that serves food with a focus on sustainability and inspiration from around the world.
The Dutch word "gezellig" (cozy and convivial) designates a location where people like spending time with friends and family.
Known Executive Chef Michael Moffatt and Stephen Beckta, the owner of Beckta Dining & Wine, are in charge of this establishment, which is the most excellent way to describe its name.
This unique location, inside a 1950s bank that has been transformed, maintains its bright & airy nature with high ceilings, blue walls, & colourful paintings, creating a pleasant and peaceful ambiance.
It would be best if you had the pan-seared Quebec Duck Breast for the main course, served with stewed cabbage, spätzle, & cranberry-orange compote.
The duck is prepared to your preferences, and all the sides go well. It goes best with a French Frédéric Brouca Champs-Pentus Faugères, the ideal wine pairing. So you know where to eat in Ottawa at Gezellig.
A hip Canadian restaurant called Sansotei specializes in genuine Tonkotsu Ramen, influenced by Japan's Kyushu & Hokkaido regions. Sansotei Ramen consistently has a line out the door because you can get a tonne of good food for a modest cost.
Even though pho is commonly accessible in Ottawa, this Restaurant dominates the market for noodle soups, drawing crowds of locals ever since it opened in 2016.
The two Sansotei restaurants in Ottawa make their pig bone broth every day, and you may choose thick or thin noodles in any of six flavours, from traditional tonkatsu to the more recent addition of tomato, which has a texture that is nearly creamy but not at all heavy. So you know where to eat in Ottawa at Sansotei.
You'll lose out if you don't sample the famous Tonkotsu Black Ramen. A thick broth is served on top, along with two discs of pork belly, soft-boiled eggs, green onion, and wood-ear mushroom pieces for crunch.
Gatineau's Chez Fatima is a beautiful, tranquil restaurant that offers distinctive North African and Moroccan cuisine. It is only 5 minutes from the Ottawa Marriott Hotel.
Check out Chez Fatima if you're staying at one of the close-by hotels in "Centretown" in downtown Ottawa.
Discover the delicate aromas of Moroccan cuisine in this family-run Restaurant's à la carte menu or buffet, which offers excellent service, a casual-chic atmosphere, and a tonne of food for the money.
So you know where to eat in Ottawa at Chez Fatima.
Amuse Kitchen & Wine is a casual, modern restaurant that serves various sharing dishes, fish, and meats in addition to wine, beer, and other beverages. It is situated around 7 minutes from the Glo Best Western Kanata.
Suppose you're looking for restaurants in the area of Kanata. In that case, you'll adore Amuse Kitchen & Wine, which offers upscale and inventive fare, a daring wine selection, and tasty beverages. So you know where to eat in Ottawa at Amuse Kitchen.
All of them are presented in an enticing, unique, and imaginative dining setting with contemporary and stylish décor that feature exposed brick, solid furniture, & neutral tones.
The Chicken, Lamb, and Orange Lamb Korma main dishes are the standouts for dinner, but check out their daily lunch specials.
Aperitivo is a quaint, hip gastropub inside Kanata Centrum Shopping Centre that serves craft cocktails and small plates with international influences.
A drink or snack provided before dinner to "open" the palate is known as an aperitivo in both Spain & Italy. This is the place to enjoy "aperitivo," with excellent shared platters, top-notch cocktails, and knowledgeable servers all working together to create a pleasant atmosphere.
Since the concept is sharing plates, order a tonne of them, especially if you're dining with a group.
The menus are constantly changing, but there's always the charcuterie board, to which you may add cheese and oysters. So you know where to eat in Ottawa at Aperitivio.
One of the earliest restaurants in Ottawa to set the bar for good Dining was Beckta Dining & Wine, which hasn't let up since.
This eatery is renowned for its wide-ranging menu, which features everything from seafood with Asian influences to Canadian & Caribbean fare.
The furniture and decor have a retro 1970s feel, thanks to the orange booths & armchairs, the blue carpet, and the oddly matching orange and blue drapes.
You can choose between a five-course, interactive chef's tasting menu and the à la carte menu at Beckta's stunningly restored historic building.
So you know where to eat in Ottawa at Beckta Dining & Wine.
With roasted celeriac purée, string beans, baby leeks, spent grain duxelles, a Dijon vinaigrette, and an heirloom tomato demi-glace, their trademark dish, the Ontario AAA striploin, is to die for.
Since its initial opening in 2008, FRASER Cafe has been a chic space with stone accents and communal tables serving food locally sourced and influenced by the world. Visit Fraser Café for the best lunch in Ottawa.
The eating philosophy of Fraser Café is tried and true: use the best materials available to prepare delectable food at a reasonable price.
This is one of the best brunch spots in the city since the menu, which is primarily Canadian seasonal fare, combines the tried-and-true with the innovative.
The Mortadella Loafer, which includes mortadella, mushroom, pickled fennel, arugula, preserved lemon, & sunflower seed pesto, is a good choice if you're having difficulties picking what to eat for dinner. So you know where to eat in Ottawa at FRASER.
A modest Japanese eatery with a club-like environment, Shinka Sushi Bar first opened its doors in 2017 and offers a variety of sushi rolls in addition to hot and cold sake.
You're in luck if you're looking for an all-you-can-eat sushi restaurant in Ottawa since Shinka is one of the greatest.
Compared to all-you-can-eat sushi restaurants, the alternatives available here promise upscale treats at upscale prices. Enjoy them in a chic setting with a cozy and welcoming atmosphere. Vegetarian options are available to satisfy your dietary needs.
If you want to treat yourself, get the Unagi with pan-seared foie gras or the Osaka, which is made with red tuna, crabstick, & avocado. Both dishes are well worth their hefty prices.
So you know where to eat in Ottawa at Shinka Shushi Bar.
A high-end, minimalist eatery with an innovative 12-course tasting menu focused on molecular gastronomy; Atelier debuted in 2008. One of Ottawa's best dining establishments, Atelier offers a fantastic 12-course feast.
The concept has since been substantially revised, and as of January 2021, they are now providing a 44-course interactive tasting menu that will take you around 4 hours to complete.
As at a birthday party, Atelier makes a lot of effort to build suspense and keep you wondering up until the arrival of each course.
There are dishes on the menu with unusual titles that sound exciting and intriguing but don't provide much information about what they are.
As an alternative, you must wait until the plate is placed in front of you before learning what you are receiving. It's one of the top restaurants in Ottawa for birthday celebrations in this sense. So you know where to eat in Ottawa at Atelier.
You will only go for the interactive 44-course tasting menu experience since there is no à la carte menu. We assure you it's well worth the indulgence, with wine-matching options available for an extra fee.
The Green Door, a restaurant that was first established in 1988, provides organic vegetarian meals & gluten-free desserts in a fun environment.
It is a sizable self-serve buffet where you pay by weight for a changing seasonal selection of hot dishes, salads, and desserts. Here in Ottawa, you'll discover some of the finest food available that is exclusively vegetarian.
Try the Noodles, Mushrooms, Spinach Lasagna, and a variety of vegan desserts, from Mint Chocolate Cheesecake to Lemon Blueberry Squares, in addition to perennial favourites like tofu-broccoli stir-fry and avocado salad. So you know where to eat in Ottawa at The Green Door.
In addition to various Greek & Mediterranean small plates, Aroma Meze is a quiet, unpretentious tapas restaurant serving wines from around the world.
Aroma Meze aims to spread the traditional Greek way of eating, which turns everyday meals into festivals of both the plates and the people around them.
There is no room for a relaxed dinner here as customers heap huge helpings of delectable food onto their plates and create a family-bonding ambiance with their long reaches, clashing forks, & bumps, and spills.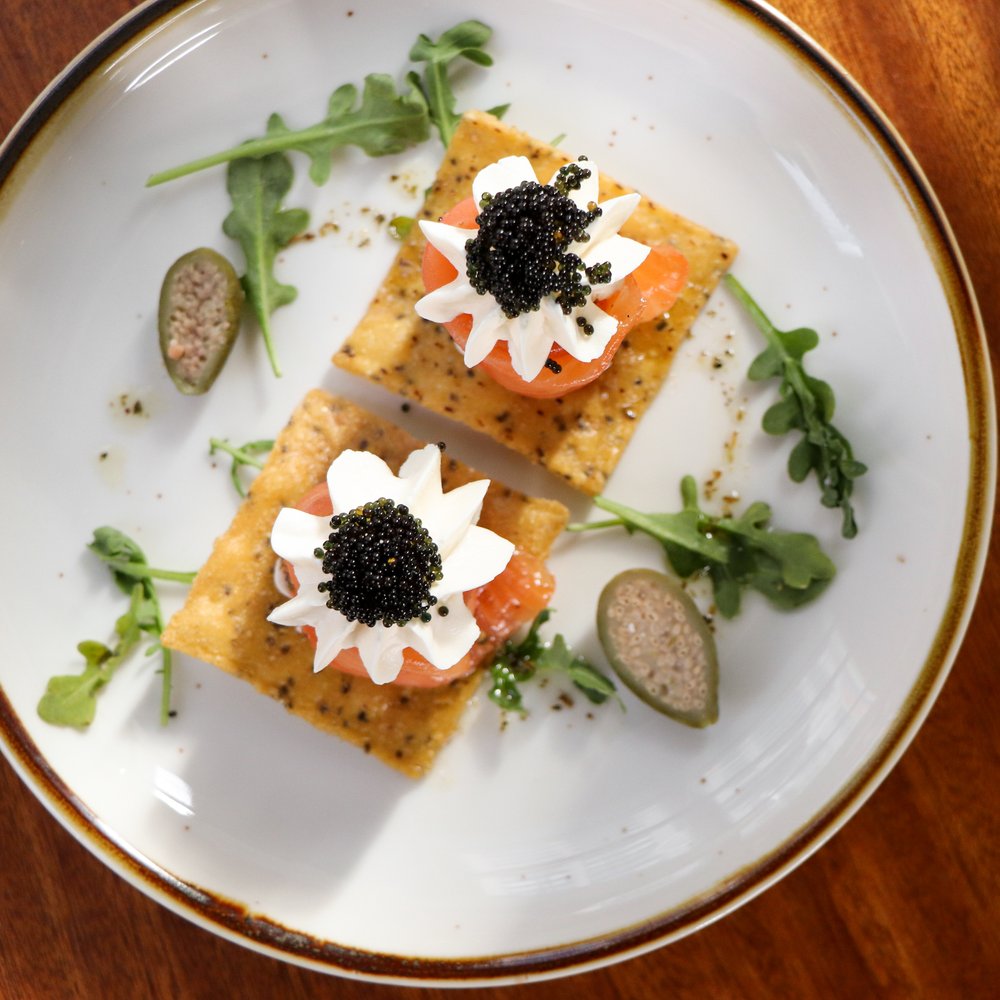 Assuming you're dining with a partner, the Restaurant suggests selecting 6–8 dishes for the table because each word is portioned for two.
You can ask your server to change the portions if your group is more significant than two or has an odd number of diners. So you know where to eat in Ottawa at Aroma Meze.
The menu is bursting with tasty options from the garden, sea, and soil, so be sure to try anything that catches your eye, such as the Eggplant Roulade, Fish Tacos, & Lamb Sliders.
Greek staples, including pitas, salads, & souvlaki, are served at the understated takeout restaurant Cosmos Souvlaki. You want Greek food but don't want to deal with cooking it yourself or long waits.
Visit Cozmos Souvlaki for straightforward, delicious food cooked with premium ingredients and delivered in sizable servings, along with reliable & impressive takeout service and a welcoming staff.
The Greek salad, the souvlakia, which are consistently juicy and served in substantial servings, and redskin potatoes—considered superior to regular fries—are all recommended. So you know where to eat in Ottawa at Cozmoz Souvlaki.
The Brig Pub is a welcoming bar with a patio that offers craft beer, cocktails, and enhanced pub grub in a laid-back setting. It originally opened its doors in 2016.
The Brig Pub in Byward Market is one of the top restaurants in Ottawa. It's a gastropub with a chic and welcoming atmosphere and a patio filled with plants where you can unwind and enjoy your favourite beverage.
It's ideal for busy people who need downtime and the trendy millennial population who want to eat, drink, & hang out with pals. Take a bite of their Short Rib Linguine, which comes with linguine, parmesan, & garlic bread, before enjoying a lavish supper and settling in for a round of beverages.
You may also try some of their handheld items for a lighter dinner, like the Falafel Wrap, which comes with fries or salad and is topped with chickpea falafel, pickled beets, sun-dried tomatoes, and sweet garlic shawarma sauce. So you know where to eat in Ottawa at The Brig Pub.
A broad selection of wine by the glass, a small plate menu, and an open kitchen are all features of the upscale-casual Play Food & Wine restaurant.
Play Food & Wine is a cutting-edge, small-plate restaurant owned by Stephen Beckta, with food prepared by chef Michael Moffatt using regional, sustainable, and seasonal ingredients.
To go along with the constantly-changing menu of small plates, they also have a wide selection of wines by both the glass, from sparking wine from the Niagara Falls area to white wines from Oregon.
Les Fougeres has been serving seasonal, regional food in an open setting with blond woods, a bar, & a patio for close to 30 years.
Take a 20-minute journey to Les Fougères, an all-encompassing dining experience with a view of the lush grandeur of Quebec woodlands, if you're in the mood for superb food & a road trip.
Since opening in 1993, the Restaurant has won numerous regional & national awards thanks to its emphasis on using fresh ingredients.
It's a Canadian experience with French-inspired delicacies like lamb loin and fresh seafood from nearby waterways. So you know where to eat in Ottawa at Play Food & Wine.
Supply and Demand is a chic restaurant in Ottawa Shambhala that features an open kitchen, a raw bar, and a changing menu of creative, locally sourced food.
Although the Restaurant's food is a significant attraction, Supply & Demand includes some trendiest interior design features, like tiled floors and opulent light fixtures.
Supply and Demand are where you should go if you're looking for outstanding surf and turf. Attending a pasta class, where you prepare and consume the pasta you just cooked with wine pairings, will also help make your eating experience more memorable.
Start with the petite serving of delectable fried Brussels sprouts over cashew cheese, soffritto, & puffed quinoa. So you know where to eat in Ottawa at Supply and Demand.
The casual neighbourhood restaurant Heartbreakers Pizza offers Pizza, drinks, and snacks on its patio in addition to a wine shop. Who doesn't enjoy Pizza with wine, which gives an otherwise ordinary dinner a sophisticated twist?
You may get pizzas here that are produced using premium local ingredients, in addition to other delicious and quick options like wings, salads, & desserts. So you know where to eat in Ottawa at Heartbreakers Pizza.
Start with the well-known Chicken Wings With Spice & Honey, which consists of spice-rubbed, oven-roasted wings that are then completed with honey, Calabrian chillis, jalapenos, mint, and basil.
Pick a traditional pizza or try The Van Damme, which has basil, lemon bread crumbs, aged mozzarella, Brussels sprouts, and roasted onion petals on top.
Soif provides superb international wines and delectable small appetizers in this chic bar with a romantic atmosphere.
One of the best sommeliers in the world owns Soif, a hidden gem in Hull that used to be a hamburger restaurant but inexplicably hasn't caught on in the Ottawa-Gatineau region.
You can rely on her and her staff to carefully guide you through the world's wine options. Regarding the cuisine, they emphasize a blend of French & Latin American dishes with a few allusions to Canada for good measure. So you know where to eat in Ottawa at Soif.
Best of Ottawa: Fine Dining and Noodle Soup Market
Gezellig Dining, which takes its name from the Dutch word for snug or comfortable, serves delicious modern-style fine dining fare created with organic ingredients.
The eatery enjoys assisting regional farmers and is a welcomed neighbour in the Wellington West neighbourhood.
1. Atelier
The atmosphere at Atelier is incredibly artistic, and the food is treated as exquisite works of art that are equally satisfying to the eye and the palate. It's not always necessary to use our eyes to admire masterpieces!
2. Fairouz
If you enjoy excellent Dining and modern Middle Eastern food, Fairouz is the place to go. Located in a quaint, nicely adorned Centretown heritage mansion to provide an exotic dining experience.
3. NeXT
You can dine on exquisite fine cuisine at NeXT with your loved ones. Enjoy a variety of contemporary meals that will surprise and excite you in their welcoming environment, just 15 minutes from downtown Ottawa. So you know where to eat in Ottawa at NeXT.
4. Le St. Laurent
The best spot for delicious food with a view is Le St. Laurent, situated on the top floor of a somewhat new condo complex. Modern Canadian food made with seasonal, fresh ingredients is to be expected.
5. Riviera Ottawa
The quaint Restaurant Riviera Ottawa is housed in a former bank that has been beautifully renovated. Despite the vaulted ceilings, the ambiance is that of a charming European bistro.
The delectable food is Canadian with a touch of Mediterranean. So you know where to eat in Ottawa at Riviera Ottawa.
6. Wilfrid's Restaurant
Wilfrid's Restaurant, situated at the renowned Chateau Laurier, will surround you with stunning architecture and provide a view of the Parliament to emphasize its upscale atmosphere.
7. Aroma Meze
Mezes are little dishes that are typically served as appetizers in Greece. Mediterranean sharing platters from Aroma Meze are a fantastic casual dining option to enjoy with family or friends.
8. Signatures
French food is served at Signatures; a restaurant hidden away in a Sandy Hill estate that it shares with the Cordon Blue culinary institute.
Signatures won't let you down with its seasonal cuisine and top-notch service. So you know where to eat in Ottawa at Signatures.
9. Giovanni's Restaurants
Giovanni's is a magnificent, authentic Italian restaurant with delicious, tasty food located in the heart of Little Italy.
The exquisite setting, welcoming personnel, and delectable food create a memorable dining experience.
Thick or Thin Noodles of Ottawa
A boiling hot bowl of noodles is one of the few things that taste amazing in a chilly winter. It is so affordable and filling that it is difficult not to appreciate the cozy Japanese noodle dish.
We've gathered all the best ramen restaurants in Ottawa to enjoy a massive bowl of flavorful broth and noodles when you're weary of the weather.
Almost every part of Japan has an impressive variety of ramen. In Ottawa, many options are available with flavorful broths made from pork bones, miso, or soy sauce.
You should add these noodle shops to your list of must-eat restaurants in Ottawa if you enjoy Japanese cuisine. Continue reading to know where to eat in Ottawa.
Here are seven of the best places in the National Capital to eat ramen on a chilly winter day:
Ginza
Kuidaore Izakaya
Datsun
Sansotei Ramen
Hanabi Japanese Cuisine
Koichi Ramen
Wasabi
You can further alter the meal at several of the city's ramen restaurants by selecting between thick or thin noodles at reasonable prices.
Some eateries, like Koichi Noodles, will even create a unique bowl with the toppings of your choice. So you know where to eat in Ottawa at Fine dining cuisine.
Final Note
We hope you will refer to this guide while deciding where to eat in Ottawa. There are plenty of top-notch eateries in Ottawa, and it could be challenging to determine where to eat next because there are plenty of options.
We've put up a list of the top restaurants in Ottawa so you can decide which ones you must visit. You won't regret it. So don't panic about where to eat in Ottawa.
The best restaurants in Ottawa are worth the expenditure for special occasions, like a birthday, even though most of us cannot afford to eat there frequently.
Just a tip: Atelier and Riveria are two places you should spend your hard-earned money on.